Kim Fay's epistolary novel, Love & Saffron: A Novel of Friendship, Food, and Love is the current Hot Book of the Week at The Poisoned Pen. There are even signed copies of it available through the Web Store. https://tinyurl.com/antbc2kz
Here's the description of Love & Saffron.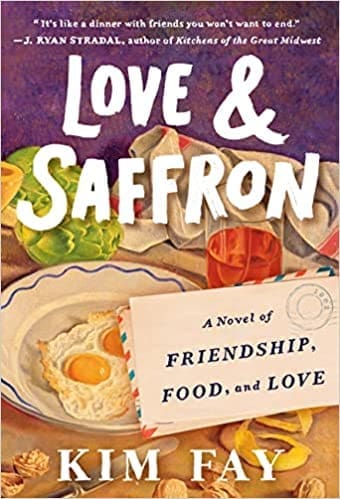 In the vein of the classic 84, Charing Cross Road, this witty and tender novel follows two women in 1960s America as they discover that food really does connect us all, and that friendship and laughter are the best medicine.

When twenty-seven-year-old Joan Bergstrom sends a fan letter–as well as a gift of saffron–to fifty-nine-year-old Imogen Fortier, a life-changing friendship begins. Joan lives in Los Angeles and is just starting out as a writer for the newspaper food pages. Imogen lives on Camano Island outside Seattle, writing a monthly column for a Pacific Northwest magazine, and while she can hunt elk and dig for clams, she's never tasted fresh garlic–exotic fare in the Northwest of the sixties. As the two women commune through their letters, they build a closeness that sustains them through the Cuban Missile Crisis, the assassination of President Kennedy, and the unexpected in their own lives.

Food and a good life—they can't be separated. It is a discovery the women share, not only with each other, but with the men in their lives. Because of her correspondence with Joan, Imogen's decades-long marriage blossoms into something new and exciting, and in turn, Joan learns that true love does not always come in the form we expect it to. Into this beautiful, intimate world comes the ultimate test of Joan and Imogen's friendship—a test that summons their unconditional trust in each other.

A brief respite from our chaotic world, Love & Saffron is a gem of a novel, a reminder that food and friendship are the antidote to most any heartache, and that human connection will always be worth creating.
---
I read and reviewed Love & Saffron at the beginning of the month. Here's what I said at the time. The review gives a little more than the earlier summary, so you might want to avoid reading it. There are no spoilers, but if you want to start fresh with the book, you can easily skip the review.
I enjoyed Love & Saffron, and I'm recommending it to people who enjoy epistolary novels.
Imogen Fortier has been writing her column, "Letters from the Island" for ten years now for Northeast Home & Life magazine. Joan Bergstrom, a twenty-seven-year-old in Los Angeles, writes to Mrs. Fortier, telling her how much she enjoys the column. As a thank you, she encloses a packet of saffron that she picked up on a trip to the Far East. In 1962, saffron is not well-known in the U.S., so Joan encloses a recipe. That letter, and the recipe, changes their lives, and forges a strong friendship.
Imogen is shocked when her husband, Francis, responds as he does to the saffron. He recognizes the smell, and makes her an omelet, the first time she ever saw him cook. And, it's the first time he tells her a story about his experiences in World War I. It was a French soldier after the war who taught him to make that omelet with saffron. As Francis delves into cooking, it opens up a side to him that she never saw. She tells Joan she's known Francis since he was a toddler, and she is now discovering aspects of him that she never knew in the course of their lives together.
Imogen's column was always about their weekends and time on Camano, Island in Washington. Now, Joan starts to write to her about her food adventures in Los Angeles as she explores ethnic foods and tries to cook them. Joan learns quite a bit about Mexican food from her neighbor's carpenter, Mr. Rodriguez, and then the two of them start to explore other foods. Not only is it rare in the early sixties for a woman to explore ethnic cuisine, it's unusual for her to have a friend who is Mexican. Imogen and Jane write to each other about their discoveries of food and of life.
The first half of the book is light as the two women explore a developing friendship. But, as they learn to trust each other with their secrets and their hearts, the letters grow more serious. Love & Saffron is a time capsule of a time in which women were struggling to find their place in the world, and it's reflected in the difference in Imogen and Joan's lives and experiences.
When you finish, you'll want to read the author's note to discover the basis of her epistolary novel. It's a story based on trust and the changes in the world. If you appreciate the confidences that can be shared in letters, check out Love & Saffron.
Kim Fay's website is https://www.kimfay.net/