I had the chance to interview Marty Wingate recently, the author of the First Edition Library mystery series. The Librarian Always Rings Twice is the third in the series. Marty signed copies of the books, so you can check the Web Store for those. https://bit.ly/3uYyxVs
Here's the summary of The Librarian Always Rings Twice.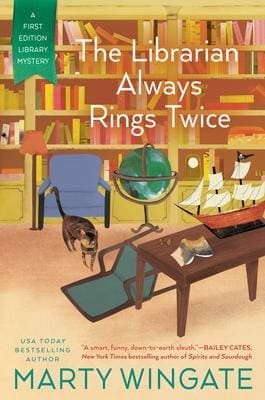 When a mysterious stranger turns up making claims that threaten Lady Fowling's legacy, Hayley Burke must dig deep into her late-benefactor's history to uncover the truth and catch a conniving killer in this new mystery from USA Today bestselling author Marty Wingate.
It has been nearly a year since I took up my position as curator of Lady Georgiana Fowling's collection of Golden Age of Mystery writers' first editions at her library in Middlebank House. I have learned that I need to take the good with the bad. The good: I have finally convinced Mrs. Woolgar to open up the collection to the public one day a week so that they too can share in Lady Fowling's passion. The bad: although he would not be my first, or even tenth, choice, at the insistence of the board Charles Henry Dill, Lady Fowling's unscrupulous nephew, is now my personal assistant.
On one of our first days open to the public, Mr. John Aubrey shows up at Middlebank House and insists that Lady Georgiana Fowling is his grandmother. Mrs. Woolgar is scandalized by his claims, and Charles Henry, who feels he has been cheated out of his rightful inheritance as Lady Fowling's heir, is furious. I do not know that I believe Mr. Aubrey, yet he has knowledge of Lady Fowling's life and writings that few possess. To further complicate matters, an associate of Mr. Aubrey's intends to help us uncover the truth of John's story. But before he can do that, he is murdered and the police have reason to suspect Charles Henry.
As much as I would like to lock up Charles Henry and throw away the key, I cannot believe he is a killer. And I also know there is something dead wrong about Mr. Aubrey's tales regarding his "grandmother" Lady Fowling. I will need to make sense of her past in order to suss out the true villain of this story.
---
A Seattle native, Marty Wingate is a member of the Royal Horticultural Society and leads garden tours through England, Scotland, and Ireland when she is not killing people in fiction.
---
Check out my discussion with Marty Wingate.