Stephanie Barron recently appeared for The Poisoned Pen to discuss her fourteenth Jane Austen mystery, Jane and the Year Without a Summer. She talks about Jane Austen, and what was going on in her life and the world at the time, and talked about the series and book. You can order a signed copy through the Web Store. https://bit.ly/34jJM05
Here's the description of Jane and the Year Without a Summer.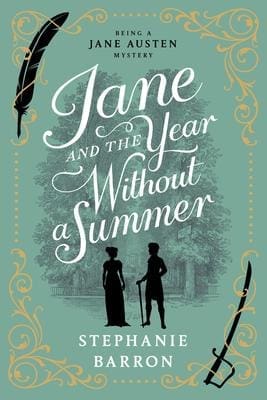 "If you have a Jane Austen-would-have-been-my-best-friend complex, look no further . . . [Barron] has painstakingly sifted through the famed author's letters and writings, as well as extensive biographical information, to create a finely detailed portrait of Austen's life—with a dash of fictional murder . . . Some of the most enjoyable, well-written fanfic ever created."—O Magazine
May 1816: Jane Austen is feeling unwell, with an uneasy stomach, constant fatigue, rashes, fevers and aches. She attributes her poor condition to the stress of family burdens, which even the drafting of her latest manuscript—about a baronet's daughter nursing a broken heart for a daring naval captain—cannot alleviate. Her apothecary recommends a trial of the curative waters at Cheltenham Spa, in Gloucestershire. Jane decides to use some of the profits earned from her last novel, Emma, and treat herself to a period of rest and reflection at the spa, in the company of her sister, Cassandra.

Cheltenham Spa hardly turns out to be the relaxing sojourn Jane and Cassandra envisaged, however. It is immediately obvious that other boarders at the guest house where the Misses Austen are staying have come to Cheltenham with stresses of their own—some of them deadly. But perhaps with Jane's interference a terrible crime might be prevented. Set during the Year without a Summer, when the eruption of Mount Tambora in the South Pacific caused a volcanic winter that shrouded the entire planet for sixteen months, this fourteenth installment in Stephanie Barron's critically acclaimed series brings a forgotten moment of Regency history to life.
---
Stephanie Barron was born in Binghamton, New York, the last of six girls. She attended Princeton and Stanford Universities, where she studied history, before going on to work as an intelligence analyst at the CIA. She wrote her first book in 1992 and left the Agency a year later. Since then, she has written twenty-nine books, including the critically acclaimed Merry Folger series, which she writes under the name Francine Mathews. She lives and works in Denver, Colorado.
---
There's a great deal of history and background provided in this fascinating event. Enjoy!