Barbara Peters, owner of The Poisoned Pen, recently hosted authors Joanna Schaffhausen and PJ Tracy for a virtual event. Schaffhausen's Last Seen Alive is the fifth in the Ellery Hathaway series. Tracy, the author of the Monkeewrench series, is also the author of the Detective Margaret Nolan books. Desolation Canyon is the second in that series. Signed copies of both books are available through the Web Store. https://store.poisonedpen.com/
Here is the summary of Last Seen Alive.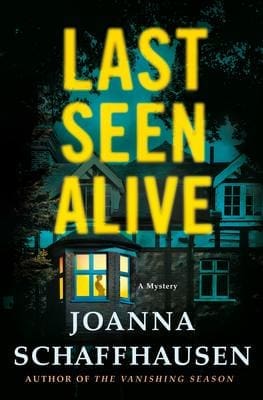 Last Seen Alive is the fifth book in Joanna Schaffhausen's heartpounding Ellery Hathaway mystery series.
Boston detective Ellery Hathaway met FBI agent Reed Markham when he pried open a serial killer's closet to rescue her. Years on, their relationship remains defined by that moment and by Francis Coben's horrific crimes. To free herself from Coben's legacy, Ellery had to walk away from Reed, too. But Coben is not letting go so easily. He has an impossible proposition: Coben will finally give up the location of the remaining bodies, on one condition—Reed must bring him Ellery.
Now the families of the missing victims are crying out for justice that only Ellery can deliver. The media hungers for a sequel and Coben is their camera-ready star. He claims he is sorry and wants to make amends. But Ellery is the one living person who has seen the monster behind the mask and she doesn't believe he can be redeemed. Not after everything he's done. Not after what she's been through. And certainly not after a fresh body turns up with Coben's signature all over it.
---
Joanna Schaffhausen wields a mean scalpel, skills developed in her years studying neuroscience. She has a doctorate in psychology, which reflects her long-standing interest in the brain—how it develops and the many ways it can go wrong. Previously, she worked for ABC News, writing for programs such as World News Tonight, Good Morning America, and 20/20. She lives in the Boston area with her husband and daughter. The Vanishing Season is her first novel.
---
Here's the description of Desolation Canyon.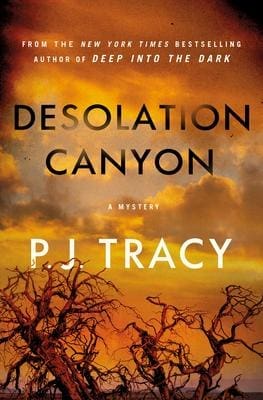 P.J. Tracy "seems to have found her literary sweet spot" (New York Times Book Review) with her dazzling new series, and in Desolation Canyon, fans get a deeper look into the complex characters who call Los Angeles home.
LAPD Detective Margaret Nolan is struggling to move forward after the death of her brother in Afghanistan and taking a life in the line of duty. Her stoic parents offer little support "" they refuse to address anything difficult, and she's afraid their relationship is eroding beyond the point of recovery.
The days off are the hardest, because they give Margaret time to think. A moment of weakness leads to cocktails with a colleague—an attraction she knows could be dangerous —at the luxurious Hotel Bel-Air bar. A stroll through the grounds leads to a grim discovery beneath the surface of Swan Lake: the body of a successful attorney who made his fortune in international trade.
It initially appears to be death by misadventure, but the case is anything but straightforward. As a series of shocking revelations emerge, Nolan finds herself confronting a sinister cabal that just might destroy her and everyone she loves.
---
P. J. Tracy is the pseudonym of Traci Lambrecht, bestselling and award winning author of the Monkeewrench series. Lambrecht and her mother, P. J., wrote eight novels together as P. J. Tracy before P. J. passed away in 2016. Lambrecht has since continued the Monkeewrench series solo. She spent most of her childhood painting and showing Arabian horses, and graduated with a Russian Studies major from St. Olaf College in Northfield, Minnesota, where she also studied voice. She now lives outside Minneapolis.
---
Barbara Peters always avoids spoilers in her discussions. Although, they'll mention the books, Peters led a conversation that included discussion of serial killers.