Ian Hamilton's first Ava Lee mystery, The Water Rat of Wanchai, won the Arthur Ellis Award for Best First Novel, a Canadian award. Now, his fourteenth Ava Lee book is just out, The Sultan of Sarawak. Hamilton's books can be ordered through the Web Store. https://bit.ly/3GV2Qj6
Here's the summary of The Sultan of Sarawak.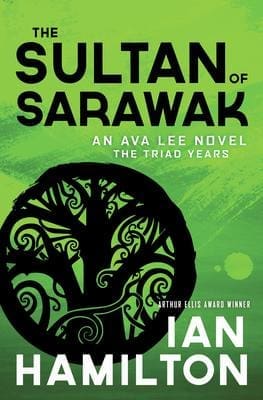 Ava Lee clashes with the most powerful family in Malaysian Borneo in this exhilarating new thriller from bestselling author Ian Hamilton.
After a warehouse owned by the Three Sisters is destroyed under suspicious circumstances, Ava Lee travels to the Malaysian province of Sarawak to investigate. She quickly discovers that the powerful Chong family has a political and economic stranglehold on the province and is likely responsible for the warehouse. As Ava digs deeper into the Chongs, she is shocked to learn of their billion-dollar illegal logging operation in Sarawak, which has decimated the Bornean rainforest and threatens the existence of the Penan — a nomadic Indigenous people who have lived in the region for centuries.
Determined to avenge the harm caused by the Chongs and to put an end to their dominion over Sarawak, Ava follows a money trail that leads back to the Hong Kong real estate market. There, Ava and Sonny Kwok embark on a campaign of terror against the Chong family — attacking their holdings and bank accounts. Can Ava attain the vengeance she seeks? Or will the powerful Chong family triumph once again?
---
IAN HAMILTON is the acclaimed author of fourteen books in the Ava Lee series, four in the Lost Decades of Uncle Chow Tung series, and the standalone novel Bonnie Jack. National bestsellers, his books have been shortlisted for the Arthur Ellis Award, the Barry Award, and the Lambda Literary Prize. BBC Culture named him one of the ten mystery/crime writers who should be on your bookshelf. The Ava Lee series is being adapted for television.
---
Enjoy Ian Hamilton's discussion of Ava Lee and the series.