You might have missed the national book launch of Stephen Hunter's latest Bob Lee Swagger Targeted. Barbara Peters, owner of the Poisoned Pen, and guest host Jack Carr led the conversation. You can order signed copies of Targeted through the Web Store. https://bit.ly/3FQ2icT
Here's the description of Targeted.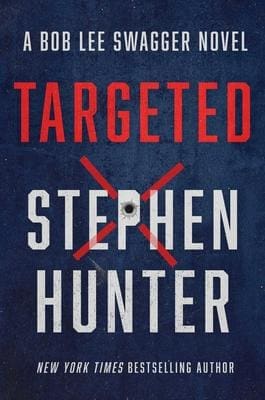 Pulitzer Prize winner and New York Times bestselling author Stephen Hunter returns with a taut, white-knuckled thriller featuring master sniper Bob Lee Swagger as he protects a group of political hostages during a perilous standoff and once again proves his title of "true American literary icon" (Mark Greaney, author of Mission Critical).
After his successful takedown of a dangerous terrorist, Bob Lee Swagger learns that no good deed goes unpunished. Summoned to court by the United States Congress, Swagger is accused of reckless endangerment by a hardheaded anti-gun congresswoman. But what begins as political posturing soon turns deadly when the auditorium where the committee is being held is attacked.
Swagger, the congresswoman, and numerous bystanders and reporters are taken hostage by a group of violent operatives. Soon, the very people who had accused him are depending on him to save their lives. Trapped in the auditorium and still struggling with injuries from his last assignment, Swagger must rely on his instincts, his shooting skills, and the help of a mysterious rogue sniper on the outside in order to ensure that everyone makes it out alive.
A heart-pounding and crackling action-packed novel, Targeted proves that Stephen Hunter is "a true master at the pinnacle of his craft. No one does it better" (Jack Carr, Former Navy SEAL Sniper and author of The Terminal List).
---
Stephen Hunter has written over twenty novels. The retired chief film critic for The Washington Post, where he won the 2003 Pulitzer Prize for Distinguished Criticism, he has also published two collections of film criticism and a nonfiction work, American Gunfight. He lives in Baltimore, Maryland.
---
Enjoy the recent discussion with Stephen Hunter, Jack Carr, and Barbara Peters.