Barbara Peters, owner of The Poisoned Pen, recently hosted Dana Stabenow in person for the national book launch of the second in her Eye of Isis series, Disappearance of a Scribe. You can order a signed copy through the Web Store. https://tinyurl.com/2p837zhb
Here's the summary of Disappearance of a Scribe.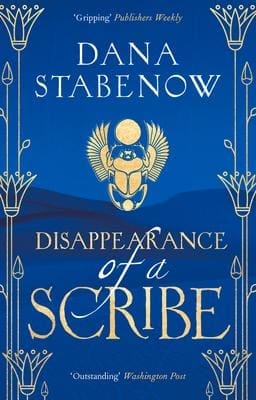 The second in the trilogy of Ancient Egyptian crime novels that began with Death of an Eye.
Two Alexandrian fishermen come across a horrifying sight "" the body of a skeleton floating upright at the bottom of the sea, anchored in place by a cement weight around his feet. In Alexandria's rough-and-tumble construction trade they call that 'being fitted with a pair of Rhakotis sandals' and what's worse, he's the second such victim in two years.
Queen Cleopatra is busy rebuilding her city after the Alexandrian War and these murders are not to be allowed to interfere with this primary task, so she charges Tetisheri, her new Eye of Isis, with the task of finding out who these men were, when they were murdered, and, above all, why.
---
Dana Stabenow was born in Anchorage, Alaska and raised on a 75-foot fishing tender. She knew there was a warmer, drier job out there somewhere and found it in writing. Her first Kate Shugak book, A Cold Day for Murder, received an Edgar Award from the Crime Writers of America. She lives in Homer, Alaska. Find her online at stabenow.com.
---
Dana Stabenow and Barbara Peters have been to Egypt together, so they can discuss that along with Stabenow's new book.