Although Charles Cumming was the primary author for the recent Poisoned Pen virtual event to talk about his latest book, Box 88, Joseph Kanon joined the event for a discussion. Kanon and Cumming could talk about spy novels. Kanon will be back in late February to talk about his new book, The Berlin Exchange. You can order both books through the Web Store. https://store.poisonedpen.com/
Here's the description of Box 88.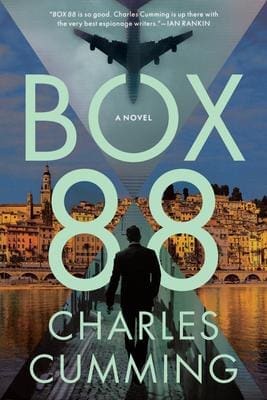 One of Parade's Most Anticipated Books of 2022!

A secret agent comes of age—and reckons with the legacy of his first mission—in this thriller by New York Times-bestseller Charles Cumming, "the best of the new generation of British spy writers" (The Observer)
Lachlan Kite is a member of BOX 88, an elite transatlantic black ops outfit so covert that not even MI6 and the CIA are certain of its existence — but even the best spy can't anticipate every potential threat in a world where dangerous actors lurk around every corner. At the funeral of his childhood best friend, Lachlan falls into a trap that drops him into the hands of a potentially deadly interrogation, with his pregnant wife, also abducted, being held as collateral for the information he's sworn on his own life to protect.
Thirty years earlier Lachlan, then just out of the upper class boarding school where he was reared, was BOX 88's newest recruit. In the haze of a gap year summer, in which the study of spycraft was intertwined with a journey of self-discovery, he cut his teeth on a special assignment on the coast of France, where a friendship allowed him special access to one of Iran's most dangerous men. Today, Lachlan's nostalgia for the trip is corrupted by recollection of the deceit that accompanied it but, in order to save his family, he'll be forced to revisit those painful memories one last time.
---
Charles Cumming is a British writer of spy fiction. He was educated at Eton College (1985-1989) and the University of Edinburgh (1990-1994), where he graduated with 1st Class Honors in English Literature. He's been described him as "the best of the new generation of British spy writers who are taking over where John le Carré and Len Deighton left off".
BOX 88 is his tenth novel, the start of a new series featuring Lachlan Kite.
---
Here's the description of the forthcoming The Berlin Exchange.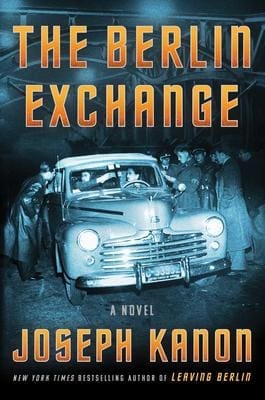 From "master of the genre" (The Washington Post) Joseph Kanon, an espionage thriller set at the height of the Cold War, when a captured American who has spied for the KGB is swapped by the British and returns to East Berlin needing to know who arranged his release and what they want from him.
Berlin. 1963. The height of the Cold War. An early morning spy swap, not at the familiar setting for such exchanges, or at Checkpoint Charlie, where international visitors cross into the East, but at a more discreet border crossing, usually reserved for East German VIPs. The Communists are trading two American students caught helping people to escape over the wall and an aging MI6 operative. On the other side of the trade: Martin Keller, a physicist who once made headlines, but who then disappeared into the English prison system. Keller's most critical possession: his American passport. Keller's most ardent desire: to see his ex-wife Sabine and their young son.
The exchange is made with the formality characteristic of these swaps. But Martin has other questions: who asked for him? Who negotiated the deal? The KGB? He has worked for the service long enough to know that nothing happens by chance. They want him for something. Not physics—his expertise is out of date. Something else, which he cannot learn until he arrives in East Berlin, when suddenly the game is afoot.
Filled with intriguing characters, atmospheric detail, and plenty of action Kanon's latest espionage thriller is one you won't soon forget.
---
Joseph Kanon is the Edgar Award""winning author of The Accomplice, Defectors, Leaving Berlin, Istanbul Passage, Los Alamos, The Prodigal Spy, Alibi, Stardust, and The Good German, which was made into a major motion picture starring George Clooney and Cate Blanchett. He lives in New York City.
---
Enjoy Barbara Peters' discussion with Charles Cumming and Joseph Kanon.