The Poisoned Pen just held the book launch for The Horsewoman by James Patterson and Mike Lupica. Lupica says, "It's a thriller. It's a family novel. It's a novel set in showjumping, but at its heart it's about two women who love each other, but they love showjumping, too." You can order a copy through the Web Store, and the copies come with signed bookplates. https://bit.ly/3zM8xxb
Here's the summary of The Horsewoman.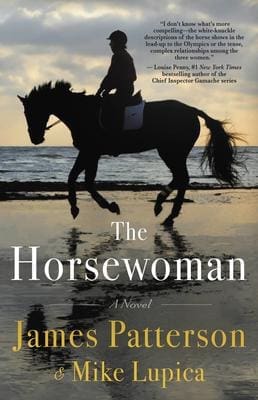 Emotions rule us all—and turn two women's lives into a ride they can barely control in this "hugely entertaining, riveting page-turner." —#1 bestselling author Louise Penny
Maggie Atwood and Becky McCabe, mother and daughter, both champion riders, vowed to never, ever, go up against one another. 

Until the tense, harrowing competitions leading to the Paris Olympics. 

Mother and daughter share a dream: to be the best horsewoman in the world.

Coronado is Maggie's horse. An absolutely top-tier Belgian warmblood. 
Sky is Becky's horse. A small, speedy Dutch warmblood. 

Only James Patterson could bring you such breakneck speed, hair-raising thrills and spills.  

Only hall of fame sportswriter Mike Lupica could make it all so real.
---
James Patterson is the world's bestselling author. The creator of Alex Cross, he has produced more enduring fictional heroes than any other novelist alive. He lives in Florida with his family.
Mike Lupica is a veteran sports columnist—spending most of his career with the New York Daily News—who is now a member of the National Sports Media Association Hall of Fame. For three decades, he was a panelist on ESPN's The Sports Reporters. As a novelist, he has written sixteen New York Times bestsellers. His daughter has been a competitive rider since the age of ten.
---
It's a mother-daughter story. "It's a thriller. It's a family novel. It's a novel set in showjumping." Enjoy the book launch with James Patterson and Mike Lupica.