Shakespeare. Ngaio Marsh. Simon Brett. Elly Griffiths. In a recent article for CrimeReads, author Elly Griffiths tackles the subject of crime fiction and its relationship with the theater. Her piece, called "The Motive and the Cue: Why Crime Fiction and the Theatrical World Have Always Gone Hand-in-Hand", can be found here. https://tinyurl.com/55umsd9y
Griffiths talks about her grandfather's connection to the theater world. It undoubtedly influenced her Brighton Mysteries, including the most recent one, The Midnight Hour. You can order a copy of that book through the Web Store. https://tinyurl.com/yc8x8v7a
Here's the description of The Midnight Hour.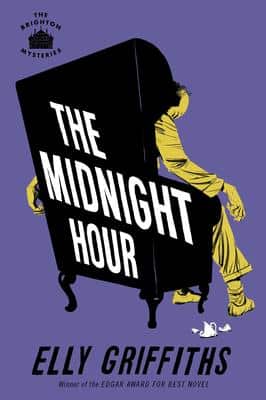 The Brighton police force is on the hunt for another killer, but this time they have some competition—a newly formed all-women's private eye firm, led by none other than the police chief's wife.
Newly minted PI Emma Holmes and her partner Sam Collins are just settling into their business when they're chosen for a high-profile case: retired music-hall star Verity Malone hires them to find out who poisoned her husband, a theater impresario. Verity herself has been accused of the crime. The only hitch—the Brighton police are already on the case, putting Emma in direct competition with her husband, police superintendent Edgar Stephens.
Soon Emma realizes that Verity's life intersects closely with her own—most notably in their mutual connection, Max Mephisto, who has returned to England from America with his children and famous wife, Hollywood star Lydia Lamont. Lydia, desperately bored in the countryside, catches wind of what Emma and Sam are up to and offers her services. What secret does Lydia know about Verity's past?
The team of female PIs circle closer to the killer, with the Brighton police hot on their tail. The clues suggest they're looking for a criminal targeting the old music-hall crew. How long will it be before that trail leads straight back to Max?
---
ELLY GRIFFITHS is the author of the Ruth Galloway and Brighton mystery series, as well as the standalone novels The Stranger Diaries, winner of the Edgar Award for Best Novel, and The Postscript Murders. She is the recipient of the CWA Dagger in the Library Award and the Mary Higgins Clark Award. She lives in Brighton, England.