The Poisoned Pen ended the virtual events of 2021 on a high note, hosting Jane K. Cleland, author of Jane Austen's Lost Letters. The book is the fourteenth in Cleland's Josie Prescott Antiques series. You can order a copy through the Web Store. https://bit.ly/3DVEinF
Here's the description of Jane Austen's Lost Letters.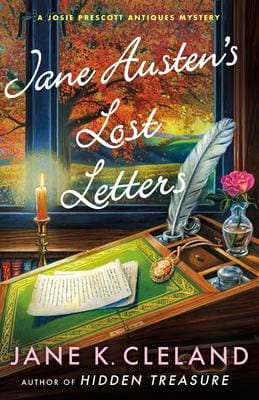 Jane K. Cleland returns with Jane Austen's Lost Letters, the fourteenth installment in the beloved Josie Prescott Antiques series, set on the rugged New Hampshire coast.
Antiques appraiser Josie Prescott is in the midst of filming a segment for her new television show, Josie's Antiques, when the assistant director interrupts to let her know she has a visitor. Josie reluctantly pauses production and goes outside, where she finds an elegant older woman waiting to see her.
Veronica Sutton introduces herself as an old friend of Josie's father, who had died twenty years earlier. Veronica seems fidgety, and after only a few minutes, hands Josie a brown paper-wrapped package, about the size of a shoebox, and leaves.
Mystified, Josie opens the package, and gasps when she sees what's inside: a notecard bearing her name—in her father's handwriting—and a green leather box. Inside the box are two letters in transparent plastic sleeves. The first bears the salutation, "My dear Cassandra," the latter, "Dearest Fanny." Both are signed "Jane Austen." Could her father have really accidentally found two previously unknown letters by one of the world's most beloved authors—Jane Austen? Reeling, Josie tries to track down Veronica, but the woman has vanished without a trace.
Josie sets off on the quest of a lifetime to learn what Veronica knows about her father and to discover whether the Jane Austen letters are real. As she draws close to the truth, she finds herself in danger, and learns that some people will do anything to keep a secret—even kill.
---
JANE K. CLELAND once owned a New Hampshire-based antiques and rare books business. She is the author of nearly twenty novels and short stories in the beloved Josie Prescott Antiques mystery series, is the winner of two David Awards for Best Novel, and has been a finalist for the Agatha, Macavity, and Anthony Awards. Jane is the former president of the New York chapter of the Mystery Writers of America and chairs the Wolfe Pack's Black Orchid Novella Award in partnership with Alfred Hitchcock Mystery Magazine. She won the Agatha Award for both of her books on the craft of writing, Mastering Suspense, Structure and Plot and Mastering Plot Twists. She is part of the fulltime English faculty at Lehman College, a contributing editor for Writer's Digest magazine, and lives in New York City.
---
You can enjoy the virtual event here.