Although Stephen Spotswood appeared for The Poisoned Pen to discuss his second Pentecost and Parker Mystery, Murder Under Her Skin, Barbara Peters also made an announcement about the first in the series. Spotswood's Fortune Favors the Dead is the '20-'21 Nero Wolfe Award winner. You can still order signed copies of Murder Under Her Skin through the Web Store. https://bit.ly/3s3AHls
Here's the summary of Spotswood's most recent book.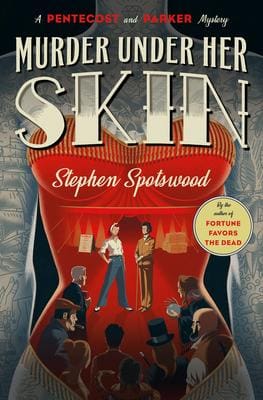 Rex Stout meets Agatha Christie with a fresh twist in the new Pentecost and Parker Mystery, a delightfully hardboiled high-wire act starring two daring woman sleuths dead set on justice as they set out to solve a murder at a traveling circus
Someone's put a blade in the back of the Amazing Tattooed Woman, and Willowjean "Will" Parker's former knife-throwing mentor has been stitched up for the crime. To uncover the truth, Will and her boss, world-famous detective Lillian Pentecost, travel south to the circus where they find a snakepit of old grudges, small-town crime, and secrets worth killing for.
New York, 1946: The last time Will Parker let a case get personal, she walked away with a broken face, a bruised ego, and the solemn promise never again to let her heart get in the way of her job. But she called Hart and Halloway's Travelling Circus and Sideshow home for five years, and Ruby Donner, the circus's tattooed ingenue, was her friend. To make matters worse the prime suspect is Valentin Kalishenko, the man who taught Will everything she knows about putting a knife where it needs to go. 
To suss out the real killer and keep Kalishenko from a date with the electric chair, Will and Ms. Pentecost join the circus in sleepy Stoppard, Virginia, where the locals like their cocktails mild, the past buried, and big-city detectives not at all. The two swiftly find themselves lost in a funhouse of lies as Will begins to realize that her former circus compatriots aren't playing it straight, and that her murdered friend might have been hiding a lot of secrets beneath all that ink. 
Dodging fistfights, firebombs, and flying lead, Will puts a lot more than her heart on the line in the search of the truth. Can she find it before someone stops her ticker for good?
---
Here's the introduction to the series with Fortune Favors the Dead.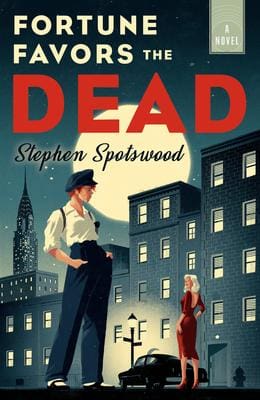 "Razor-sharp style, tons of flair, a snappy sense of humor, and all the most satisfying elements of a really good noir novel, plus plenty of original twists of its own."—Tana French

A wildly charming and fast-paced mystery written with all the panache of the hardboiled classics, Fortune Favors the Dead introduces Pentecost and Parker, an audacious new detective duo for the ages.
It's 1942 and Willowjean "Will" Parker is a scrappy circus runaway whose knife-throwing skills have just saved the life of New York's best, and most unorthodox, private investigator, Lillian Pentecost. When the dapper detective summons Will a few days later, she doesn't expect to be offered a life-changing proposition: Lillian's multiple sclerosis means she can't keep up with her old case load alone, so she wants to hire Will to be her right-hand woman. In return, Will is to receive a salary, room and board, and training in Lillian's very particular art of investigation.
Three years later, Will and Lillian are on the Collins case: Abigail Collins was found bludgeoned to death with a crystal ball following a big, boozy Halloween party at her home—her body slumped in the same chair where her steel magnate husband shot himself the year before. With rumors flying that Abigail was bumped off by the vengeful spirit of her husband (who else could have gotten inside the locked room?), the family has tasked the detectives with finding answers where the police have failed.
But that's easier said than done in a case that involves messages from the dead, a seductive spiritualist, and Becca Collins—the beautiful daughter of the deceased, who Will quickly starts falling for. When Will and Becca's relationship dances beyond the professional, Will finds herself in dangerous territory, and discovers she may have become the murderer's next target.
---
STEPHEN SPOTSWOOD is an award-winning playwright, journalist, and educator. As a journalist, he has spent much of the last two decades writing about the aftermath of the wars in Iraq and Afghanistan and the struggles of wounded veterans. His dramatic work has been widely produced across the United States. He makes his home in Washington, DC, with his wife, young adult author Jessica Spotswood.
---
Check out the conversation between Stephen Spotswood and Barbara Peters, owner of The Poisoned Pen.