War Women is the fifteenth book in Martin Limon's Sergeants Sueno and Bascom series. It's also the Hot Book of the Week at The Poisoned Pen. Signed copies of it are available through the Web Store. https://bit.ly/2Jc3Imz
Here's the description of War Women.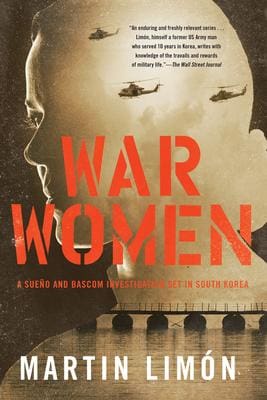 Tasked with covering up a tabloid report about high-ranking officers, US Army CID Agents George Sueño and Ernie Bascom discover a dark web of systemic issues that have potentially fatal consequences.
South Korea, 1970s: Sergeant First Class Cecil B. Harvey, a senior NCO in charge of 8th Army's classified documents, has long been a friend (willing or unwilling) to Sergeants George Sueño and Ernie Bascom. So when he goes missing with a top-secret document that even a glance at could get an officer court-martialed, Sueño and Bascom take it upon themselves to find him.
Meanwhile, Overseas Observer reporter Katie Byrd Worthington is back to make life difficult for top Army brass. When she lands in a Korean jail cell, Sueño and Bascom are sent to get her out—and negotiate against the publication of an incriminating story about the mistreatment of women in the military that could land important officials in hot water. But what they learn will make it hard for them to stay silent.
---
Martin Limón retired from military service after twenty years in the US Army, including ten years in Korea. He is the author of fourteen previous Sueño and Bascom investigations: Jade Lady Burning, Slicky Boys, Buddha's Money, The Door to Bitterness, The Wandering Ghost, GI Bones, Mr. Kill, The Joy Brigade, The Iron Sickle, The Ville Rat, Ping-Pong Heart, The Nine-Tailed Fox, and The Line as well as the short story collection Nightmare Range. He lives near Seattle.