Karen Odden's recent event at The Poisoned Pen was one of those rare events, a combination in-person and virtual event. Odden discussed her novel, Down a Dark River, the start of a new series. You can order a signed copy of Odden's mystery through the Web Store. https://bit.ly/3Czipdb
Here's the summary of Down a Dark River.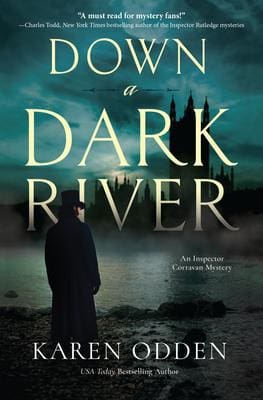 In the vein of C. S. Harris and Anne Perry, Karen Odden's mystery introduces Inspector Michael Corravan as he investigates a string of vicious murders that has rocked Victorian London's upper crust.
London, 1878. One April morning, a small boat bearing a young woman's corpse floats down the murky waters of the Thames. When the victim is identified as Rose Albert, daughter of a prominent judge, the Scotland Yard director gives the case to Michael Corravan, one of the only Senior Inspectors remaining after a corruption scandal the previous autumn left the division in ruins. Reluctantly, Corravan abandons his ongoing case, a search for the missing wife of a shipping magnate, handing it over to his young colleague, Mr. Stiles.

An Irish former bare-knuckles boxer and dockworker from London's seedy East End, Corravan has good street sense and an inspector's knack for digging up clues. But he's confounded when, a week later, a second woman is found dead in a rowboat, and then a third. The dead women seem to have no connection whatsoever. Meanwhile, Mr. Stiles makes an alarming discovery: the shipping magnate's missing wife, Mrs. Beckford, may not have fled her house because she was insane, as her husband claims, and Mr. Beckford may not be the successful man of business that he appears to be.

Slowly, it becomes clear that the river murders and the case of Mrs. Beckford may be linked through some terrible act of injustice in the past—for which someone has vowed a brutal vengeance. Now, with the newspapers once again trumpeting the Yard's failures, Corravan must dredge up the truth—before London devolves into a state of panic and before the killer claims another innocent victim.
---
Karen Odden earned her Ph.D. in English from New York University and subsequently taught literature at the University of Wisconsin-Milwaukee. She has contributed essays to numerous books and journals, written introductions for Victorian novels in the Barnes & Noble classics series, and edited for the journal Victorian Literature and Culture(Cambridge UP). Her previous novels, also set in 1870s London, have won awards for historical fiction and mystery. A member of Mystery Writers of America and Sisters in Crime and the recipient of a grant from the Arizona Commission on the Arts, Karen lives in Arizona with her family and her rescue beagle Rosy.
---
Enjoy the recent event featuring Karen Odden.