With the kerfluffle that will live forever, as Barbara Peters, owner of The Poisoned Pen said, you're lucky you're catching up with Richard Paul Evans' virtual event now. Evans has written a number of Christmas books, including his new title, The Christmas Promise. There are signed copies available in the Web Store. https://bit.ly/3kOX9KA
Here is the description of The Christmas Promise.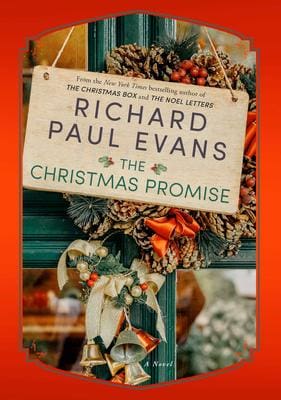 This holiday season, the #1 New York Times bestselling author of The Noel Collection returns with another heartwarming story of secrets, heartbreak, forgiveness, and the true meaning of Christmas.
On the night of her high school graduation, Richelle Bach's father gives her and her identical twin sister, Michelle, matching opal necklaces. "These opals look identical," he tells them, "but the fire inside each is completely unique—just like the two of you."
Indeed, the two sisters couldn't be more different, and their paths diverge as they embark on adulthood. Years pass, until—at their father's behest—they both come home for Christmas. What happens then forever damages their relationship, and Richelle vows never to see or speak to her sister again. In their father's last days, he asks Richelle to forgive Michelle, a deathbed promise she never fulfills as her twin is killed in an accident.
Now, painfully alone and broken, caring for the sickest of children in a hospital PICU, Richelle has one last dream: to be an author. The plot of her book, The Prodigal Daughter, is a story based on her sister's life. It's not until she meets Justin Ek, a man who harbors his own loss, that a secret promise is revealed, and Richelle learns that the story she's writing is not about her sister, but about herself.
---
Richard Paul Evans is the #1 bestselling author of The Christmas Box. Each of his more than thirty-five novels has been a New York Times bestseller. There are more than thirty-five million copies of his books in print worldwide, translated into more than twenty-four languages. He is the recipient of numerous awards, including the American Mothers Book Award, the Romantic Times Best Women's Novel of the Year Award, the German Audience Gold Award for Romance, five Religion Communicators Council Wilbur Awards, The Washington Times Humanitarian of the Century Award, and the Volunteers of America National Empathy Award. He lives in Salt Lake City, Utah, with his wife, Keri, and their five children. You can learn more about Richard on Facebook at Facebook.com/RPEFans, or visit his website RichardPaulEvans.com.
---
You'll want to watch this virtual event, because there's so much background provided about Richelle Bach, the protagonist.