The Pledge is Kathleen Kent's third Detective Betty mystery, but when Patrick Millikin from The Poisoned Pen talked with her, they spoke about her earlier writing, her background, as well as her crime fiction. You can order a signed copy of The Pledge through the Web Store. https://bit.ly/3Fn6r8z
Here's the description of The Pledge.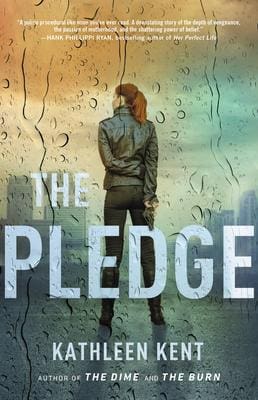 In this "instantly cinematic and completely compelling" thriller (Hank Phillippi Ryan), Detective Betty has only two weeks to take down her deadliest rival—this time for good.

"The terrific adrenaline punch you'd expect for the grand finale of Kathleen Kent's Edgar-nominated trilogy." —Julia Heaberlin
Things are looking up for Detective Betty Rhyzyk. She's settled into a happy marriage and been promoted to Sergeant in the Dallas Police Department. But when a hostage stand-off puts her on the phone with legendary cartel leader The Knife, things take a turn. The Knife has heard a rival is making a play for the streets of Dallas—none other than Evangeline Roy. The matriarch of a ruthless cult, Evangeline also happens to hold a personal vendetta against Betty. So who better to draw Evangeline out of hiding? Betty's got two weeks to catch her. Or else.
With Betty's young charge Mary Grace already missing—having left her seven-month-old baby behind in Betty's care—and the drug dealers of Dallas donning strange red wigs and delivering cryptic messages, Betty's in a race for answers. With the clock ticking down, it will take everything she's got to finally put an end to Evangeline's reign of terror, and to keep her beloved Dallas—and her own family—safe at last.
"I read this book in a compulsive binge . . . Betty Rhyzyk won't soon be forgotten by crime readers." —Sarah Weinman, New York Times Book Review
"Riveting."—The Washington Post
"A police procedural like none you've ever read." —Hank Phillippi Ryan

"A thrilling last dance with the formidable Betty Rhyzyk." —Steph Cha"‹

"Detective Betty is one of my favorite queer characters in crime fiction. The Pledge is fiery and propulsive."—Kristen Lepionka
---
Kathleen Kent is the author of the Edgar Award-nominated The Dime and The Burn as well as three bestselling historical novels: The Heretic's Daughter, The Traitor's Wife, and The Outcasts. Kent lives in Dallas, TX.
---
Enjoy the conversation between Kathleen Kent and Patrick Millikin.