Ann Williams edited Lost Cities, Ancient Tombs and Douglas Preston wrote the foreward. It's subtitled "100 Discoveries That Changed the World". Williams, who is an archaeologist by trade, was tasked to come up with these 100 discoveries for National Geographic. Unfortunately, Preston did such a great job pushing the book that the signed copies are all sold out at The Poisoned Pen. You can still get on a waiting list for signed copies. https://bit.ly/3qehQ60
Even if you can't get a signed copy right now, you might want to learn about this fascinating book.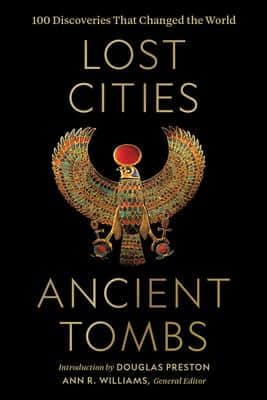 Blending high adventure with history, this chronicle of 100 astonishing discoveries from the Dead Sea Scrolls to the fabulous "Lost City of the Monkey God" tells incredible stories of how explorers and archaeologists have uncovered the clues that illuminate our past.
Archaeology is the key that unlocks our deepest history. Ruined cities, golden treasures, cryptic inscriptions, and ornate tombs have been found across the world, and yet these artifacts of ages past often raised more questions than answers. But with the emergence of archaeology as a scientific discipline in the 19th century, everything changed.
Illustrated with dazzling photographs, this enlightening narrative tells the story of human civilization through 100 key expeditions, spanning six continents and more than three million years of history. Each account relies on firsthand reports from explorers, antiquarians, and scientists as they crack secret codes, evade looters and political suppression, fall in love, commit a litany of blunders, and uncover ancient curses.
Pivotal discoveries include:
King Tut's tomb of treasure
Terracotta warriors escorting China's first emperor into the afterlife
The glorious Anglo-Saxon treasure of Sutton-Hoo
Graves of the Scythians, the real Amazon warrior women
New findings on the grim fate of the colonists of Jamestown
With a foreword from bestselling author Douglas Preston, Lost Cities, Ancient Tombs is an expertly curated and breath-taking panorama of the human journey.
---
General Editor ANN WILLIAMS specializes in writing about the ancient world and cultural heritage preservation. A writer for more than three decades career for National Geographic magazine and digital news, she reports on new discoveries and the latest research in archaeology around the world. She lives in Silver Spring, Maryland.

DOUGLAS PRESTON (foreword) has published thirty-six books of fiction and nonfiction, twenty-nine of which have been New York Times bestsellers. He writes about archaeology and anthropology for the New Yorker, and has worked as an editor at the American Museum of Natural History, and has taught writing at Princeton University. He divides his time between New Mexico and Maine.
---
Anyone intrigued by history will want to watch the virtual event, the conversation between Ann Williams and Douglas Preston.