Lori Rader-Day's Death at Greenway is a departure from her earlier books. It was the British Crime Club pick for The Poisoned Pen. Catriona McPherson was special guest host for the bookstore's recent virtual event. You can order Death at Greenway through the Web Store. https://bit.ly/2Pa2pFO
Here's the description of Death at Greenway.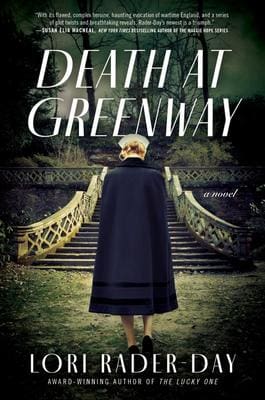 "Irresistible… a Golden Age homage, an elegantly constructed mystery that on every page reinforces the message that everyone counts." ""New York Times Book Review
From the award-winning author of The Day I Died and The Lucky One, a captivating suspense novel about nurses during World War II who come to Agatha Christie's holiday estate to care for evacuated children, but when a body is discovered nearby, the idyllic setting becomes host to a deadly mystery.
Bridey Kelly has come to Greenway House—the beloved holiday home of Agatha Christie—in disgrace. A terrible mistake at St. Prisca's Hospital in London has led to her dismissal as a nurse trainee, and her only chance for redemption is a position in the countryside caring for children evacuated to safety from the Blitz.
Greenway is a beautiful home full of riddles: wondrous curios not to be touched, restrictions on rooms not to be entered, and a generous library, filled with books about murder. The biggest mystery might be the other nurse, Gigi, who is like no one Bridey has ever met. Chasing ten young children through the winding paths of the estate grounds might have soothed Bridey's anxieties and grief—if Greenway were not situated so near the English Channel and the rising aggressions of the war.
When a body washes ashore near the estate, Bridey is horrified to realize this is not a victim of war, but of a brutal killing. As the local villagers look among themselves, Bridey and Gigi discover they each harbor dangerous secrets about what has led them to Greenway. With a mystery writer's home as their unsettling backdrop, the young women must unravel the truth before their safe haven becomes a place of death . . .
---
Lori Rader-Day is the author of Death at Greenway, The Lucky One, Under a Dark Sky, The Day I Died, Little Pretty Things, and The Black Hour. She is a three-time Mary Higgins Clark Award nominee, winning the award in 2016. Lori lives in Chicago.
---
Enjoy the conversation with Lori Rader-Day.