John Charles from The Poisoned Pen recently hosted two authors. Sheila Roberts is the author of A Little Christmas Spirit. Gerhardt Roberts' book is called Safe Harbor. You can order copies of both books through the Web Store. https://store.poisonedpen.com/
Here's the description of A Little Christmas Spirit.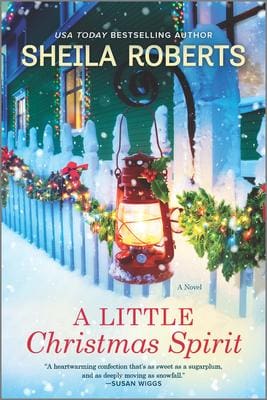 "Christmas wouldn't be Christmas without a Sheila Roberts story . . . a heartwarming confection that's as sweet as a sugarplum, and as deeply moving as snowfall." —Susan Wiggs
The best Christmas gifts—family, friendship and second chances—are all waiting to be unwrapped in this sparkling new novel from USA TODAY bestselling author Sheila Roberts.
Single mom Lexie Bell hopes to make this first Christmas in their new home special for her six-year-old son, Brock. Festive lights and homemade fudge, check. Friendly neighbors? Uh, no. The reclusive widower next door is more grinchy than nice. But maybe he just needs a reminder of what matters most. At least sharing some holiday cheer with him will distract her from her own lack of romance…
Stanley Mann lost his Christmas spirit when he lost his wife and he sees no point in looking for it. Until she shows up in his dreams and informs him it's time to ditch his scroogey attitude. Stanley digs in his heels, but she's determined to haunt him until he wakes up and rediscovers the joys of the season. He can start by being a little more neighborly to the single mom next door. In spite of his protests, he's soon making snowmen and decorating Christmas trees. How will it all end?
Merrily, of course. A certain Christmas ghost is going to make sure of that!
---
Sheila Roberts lives on a lake in the Pacific Northwest. Her novels have been published in several languages. Her book, Angel Lane, was an Amazon Top Ten Romance pick for 2009. Her holiday perennial, On Strike for Christmas, was made into a movie for the Lifetime Movie Network and her novel, The Nine Lives of Christmas, was made into a movie for Hallmark . You can visit Sheila on Twitter and Facebook or at her website (https://www.sheilasplace.com).
---
Gerhardt Roberts' Safe Harbor is described here.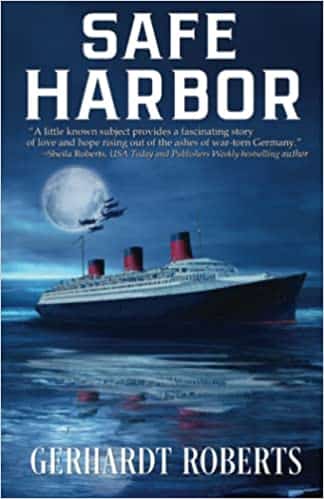 In World War II Berlin, Jews such as Erich Reinhold, who can pass for Aryan, and his sweetheart, Nessa Baumgartner, go underground. In a city where Jewish life is being snuffed out, they soon find themselves in a world of false identification papers and forged ration cards, risking their lives to help others escape to freedom. Safety is a foreign word, danger is everywhere and love is a luxury they can't afford. But maybe, in spite of danger and separation, they will find their safe harbor.
Enjoy the conversation with the Roberts.