If you watch the livestream of the virtual event with Peter Lovesey, you'll see an amusing behind-the-scenes moment with Patrick Millikin and Robert Rosenwald before the actual program with Lovesey and Barbara Peters, owner of The Poisoned Pen. But, any event featuring Peter Lovesey is wonderful, so you'll want to watch. Diamond and the Eye is the twentieth Detective Peter Diamond mystery. The event was put together for this book, but, fortunately, Lovesey and Peters reminisce about the past and other books. You can order a copy of Diamond and the Eye through the Web Store. https://bit.ly/3DE1VSg
Here's the summary of Diamond and the Eye.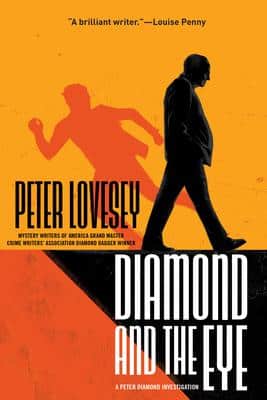 A Bath antiques dealer has disappeared, and detective Peter Diamond has been saddled with the "help" of a hardboiled Philip Marlowe wannabe private investigator in cracking the case. MWA Grand Master Peter Lovesey's 20th installment in the award-winning series will have readers laughing from the first page.
If there's one thing detective Bath Peter Diamond has no patience for, it's a dumb git trying to get involved in one of his investigations—for example, a Philip Marlowe-wannabee private investigator like the self-styled Johnny Getz (his card claims he Getz results). But fate has saddled Diamond with this trial. A Bath antiques dealer, Septimus "Seppy" Hubbard, has disappeared without a trace, and his daughter, Ruby, has hired Johnny Getz to find him. When a dead body is discovered in Seppy's locked-up store, the missing persons case becomes a murder investigation, and now Diamond has to collaborate with the insufferable private eye.
---
Peter Lovesey is the author of more than forty highly praised mystery novels. He has been named a Grand Master by the Mystery Writers of America and has been awarded the CWA Gold and Silver Daggers, the Cartier Diamond Dagger for Lifetime Achievement, the Strand Magazine Award for Lifetime Achievement, the Macavity, Barry, and Anthony Awards, and many other honors. He lives in Shrewsbury, England.
---
You really should watch the virtual event when you have the time.