Archer Mayor's 32nd Joe Gunther novel, Marked Man, is the current Hot Book of the Week at The Poisoned Pen. Barbara Peters, owner of the bookstore, had a virtual conversation with Mayor. The opening of the virtual event is interesting as Mayor discusses his parents and his career, including the fact that he was on call at the time, so he could have been called to a crime scene. You can order a signed copy of Marked Man through the Web Store. https://bit.ly/357hQrz Please be patient. We all know the delivery system isn't very efficient at the present time.
Here's the summary of Marked Man.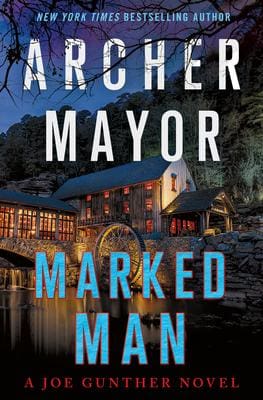 In Archer Mayor's Marked Man, the death of a local millionaire becomes suspicious when Joe Gunther learns that he was not who he claimed.
A year ago, local philanthropist and millionaire Nathan Lyon died a natural death in his sprawling mansion, a 150,000 square foot converted mill, surrounded by his loving, attentive family. Or so it seemed at the time. Now Joe Gunther and his Vermont Bureau of Investigation team has discovered that almost nothing about that story was true. Nathan Lyon was actually Nick Bianchi from Providence, Rhode Island. His money came from Mafia-tainted sources. And his family now seems to be dying themselves and their deaths are now revealed to be murders.
As Gunther's team desperately works to uncover what is going on at The Mill, who is responsible and what they are trying to accomplish, Joe himself travels to Rhode Island to look into the original source of the money. While the police are doing their jobs, private investigator Sally Kravitz teams up with reporter Rachel Reiling to expose the truth behind this tangled and expanding web of duplicity, greed, and obsession. Having betrayed many, it's no surprise that Nathan Lyon was a marked man. But now Gunther has to figure out who, among the many, killed him, and stop them before their killing spree claims another.
---
ARCHER MAYOR, in addition to writing the New York Times bestselling Joe Gunther series, is an investigator for the sheriff's department, the state medical examiner, and has twenty-five years of experience as a firefighter/EMT. He lives near Brattleboro, Vermont.
---
Enjoy the virtual event with Archer Mayor.