A Darker Reality is Anne Perry's third Elena Standish mystery set in the 1930s. She just finished signing copies of the book so you can order a signed copy through the Web Store. https://bit.ly/3lY0p66
Here's the description of A Darker Reality.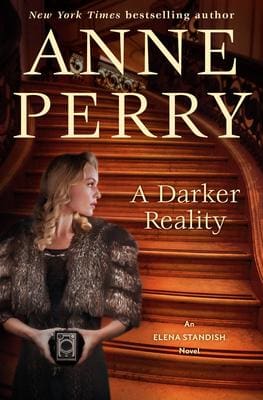 A personal trip turns perilous for Elena Standish after the murder of a British spy forces her to face dark family secrets in this exciting 1930s mystery by bestselling author Anne Perry.
On her first trip to Washington, D.C., Elena Standish finally gets to visit her American mother's wealthy parents and their magnificent home. Elena's grandparents are marking a milestone anniversary by throwing an elaborate party with the influential friends of her grandfather, a prominent political industrialist. Even President and First Lady Franklin and Eleanor Roosevelt are there, and Elena takes pride in capturing the illustrious guests on camera. But the festivities come to a sudden and tragic end when one of the guests, Lila Worth, is run over by a car in the driveway outside. Elena believes Lila was trying to tell her something before her death, and when a call from her employer back home, MI6, confirms that Lila was a British spy, Elena pairs with a fellow agent to find out what vital information the young woman had in her possession.
Soon an arrest is made in Lila's murder, and to Elena's horror, the accused is none other than her own grandfather, who claims his political enemies are trying to frame him. But who are these enemies, and how can Elena defend this man she barely knows? Nevertheless, determined to clear his name and save her family from disgrace, she delves into the details of her grandfather's investments and discovers that his business secrets run deep. As Elena begins to question his loyalties, she wonders if she can trust anyone in this threatening new world order.
---
Anne Perry is the New York Times bestselling author of two acclaimed series set in Victorian England: the William Monk novels and the Charlotte and Thomas Pitt novels. She is also the author of a series featuring Thomas and Charlotte Pitt's son, Daniel, including One Fatal Flaw and Death with a Double Edge; the Elena Standish series, including Death in Focus and A Question of Betrayal; five World War I novels; nineteen holiday novels, most recently A Christmas Legacy; and a historical novel, The Sheen on the Silk, set in the Byzantine Empire. Anne Perry lives in Los Angeles.
---
Enjoy the conversation about fashion, history and mystery with Anne Perry and Barbara Peters, owner of The Poisoned Pen.