Road of Bones is the 16th Billy Boyle WWII novel by James R. Benn. Barbara Peters, owner of The Poisoned Pen, is a fan of the cover art, and she pointed out the woman on the cover of the latest book, meant to be one of the Night Witches. You can still order a signed copy of Road of Bones through the Web Store. https://bit.ly/3ATWBJz
Here's the description of Road of Bones.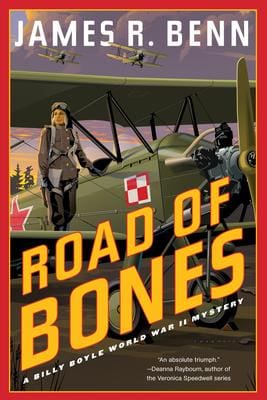 Billy Boyle is sent to the heart of the USSR to solve a double-murder at a critical turning point in the war in this latest installment of critically acclaimed James R. Benn's WWII mystery series.
It's September 1944, and the US is poised to launch Operation Frantic, a shuttle-bombing mission to be conducted by American aircraft based in Great Britain, southern Italy, and three Soviet airfields in the Ukraine. Tensions are already high between the American and Russian allies when two intelligence agents—one Soviet, one American—are found dead at Poltava, one of the Ukrainian bases. Billy is brought in to investigate, and this time he's paired, at the insistence of the Soviets, with a KGB agent who has his own political and personal agenda.
In the course of an investigation that quickly spirals out of control, Billy is aided by the Night Witches, a daring regiment of young Soviet women flying at night at very low altitudes, bombing hundreds of German installations.

It's a turning point in the war, and allied efforts hang by a thread. Unless Billy and his KGB partner can solve the murders in an atmosphere of mutual distrust, Operation Frantic is doomed.
---
James R. Benn is the author of the Billy Boyle World War II mysteries. The debut, Billy Boyle, was selected as a Top Five book of the year by Book Sense and was a Dilys Award nominee, A Blind Goddess was longlisted for the IMPAC Dublin Literary Award, The Rest Is Silence was a Barry Award nominee, and The Devouring was a Macavity Award nominee. Benn, a former librarian, splits his time between the Gulf Coast of Florida and Connecticut with his wife, Deborah Mandel.
---
Here's the conversation between James R. Benn and Barbara Peters.