Although Dervla McTiernan lives in Perth, Australia, she's originally from Ireland, so it was an Irish virtual event when Catherine Ryan Howard hosted her for The Poisoned Pen. McTiernan was talking about her latest book, The Good Turn. Copies of her book, and signed copies of Howard's thriller, 56 Days, are available through the Web Store. https://store.poisonedpen.com/
Here's the summary of The Good Turn.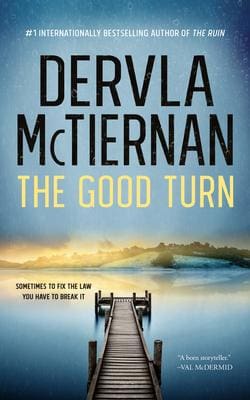 Some lines should never be crossed.
Police corruption, an investigation that ends in tragedy, and the mystery of a little girl's silence—three unconnected events that will prove to be linked by one small town.
While Detective Cormac Reilly faces enemies at work and trouble in his personal life, Garda Peter Fisher is relocated out of Galway with the threat of prosecution hanging over his head. But even that is not as terrible as having to work for his overbearing father, the local copper for the pretty seaside town of Roundstone.
For some, like Anna and her young daughter, Tilly, Roundstone is a refuge from trauma. But even this village on the edge of the sea isn't far enough to escape from the shadows of evil men.
---
International no.1 bestseller Dervla McTiernan's first two novels, The Rúin and The Scholar, were critically acclaimed around the world. Dervla has won multiple prizes, including a Ned Kelly Award, Davitt Awards, a Barry Award, and an International Thriller Writers Award, and has been shortlisted for numerous others. Dervla's third book, The Good Turn, went straight to no.1 in the bestseller charts, confirming her place as one of Australia's best and most popular crime writers.
---
The authors spoke about books, the lockdown for COVID, and other subjects. You'll want to check out the virtual event.