If you enjoyed Richard Osman's The Thursday Murder Club, you might want to check out Alex Clark's interview with him in The Guardian. The title? 'Richard Osman: "No one's born a crime writer. I write crime because I read it."' https://bit.ly/3zMxzLC It's an excellent article about the author whose second book, The Man Who Died Twice, is due out at the end of September. You can pre-order a signed copy of Osman's forthcoming book through the Web Store. https://bit.ly/3BJAPb9
If you missed Osman's first bestseller, here's the summar of The Thursday Murder Club. (And, I agree with the fans who think Helen Mirren would be perfect for Elizabeth in the movie.)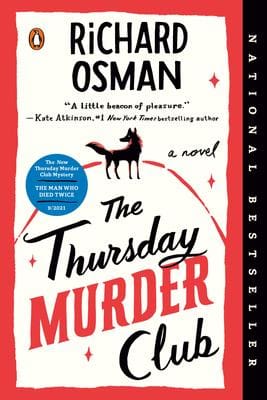 A New York Times bestseller!

"Witty, endearing and greatly entertaining." —Wall Street Journal

"Don't trust anyone, including the four septuagenarian sleuths in Osman's own laugh-out-loud whodunit." —Parade

Four septuagenarians with a few tricks up their sleeves
A female cop with her first big case
A brutal murder
Welcome to…
THE THURSDAY MURDER CLUB
In a peaceful retirement village, four unlikely friends meet weekly in the Jigsaw Room to discuss unsolved crimes; together they call themselves the Thursday Murder Club.
When a local developer is found dead with a mysterious photograph left next to the body, the Thursday Murder Club suddenly find themselves in the middle of their first live case.
As the bodies begin to pile up, can our unorthodox but brilliant gang catch the killer, before it's too late?
---
Or, if you're waiting for The Man Who Died Twice, check out the description.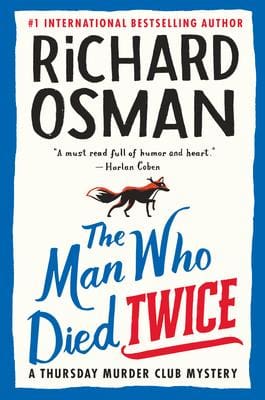 The second gripping novel in the New York Times bestselling Thursday Murder Club series, the first of which Kate Atkinson called "A little beacon of pleasure in the midst of the gloom. . . SUCH FUN!"
Elizabeth, Joyce, Ron and Ibrahim—the Thursday Murder Club—are still riding high off their recent real-life murder case and are looking forward to a bit of peace and quiet at Cooper's Chase, their posh retirement village.

But they are out of luck.

An unexpected visitor—an old pal of Elizabeth's (or perhaps more than just a pal?)—arrives, desperate for her help. He has been accused of stealing diamonds worth millions from the wrong men and he's seriously on the lam.

Then, as night follows day, the first body is found. But not the last. Elizabeth, Joyce, Ron and Ibrahim are up against a ruthless murderer who wouldn't bat an eyelid at knocking off four septuagenarians. Can our four friends catch the killer before the killer catches them?  And if they find the diamonds, too? Well, wouldn't that be a bonus?  You should never put anything beyond the Thursday Murder Club.

Richard Osman is back with everyone's favorite mystery-solving quartet, and the second installment of The Thursday Murder Club series is just as clever and warm as the first—an unputdownable, laugh-out-loud pleasure of a read.
---
Richard Osman is an author, producer, and television presenter. His first novel, The Thursday Murder Club, was a #1 million-copy international bestseller. Critics have already described The Man Who Died Twice as "his second novel." He lives in London.