Catherine Ryan Howard appeared for her virtual event from Ireland. She's the author of 56 Days. Signed copies of her book are available through the Web Store. https://bit.ly/3mXK8A8
Here's the description of Howard's novel, 56 Days.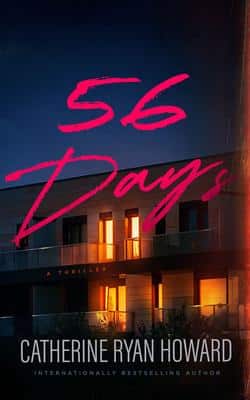 No one even knew they were together. Now one of them is dead.
56 DAYS AGO
Ciara and Oliver meet in a supermarket queue in Dublin and start dating the same week COVID-19 reaches Irish shores.
35 DAYS AGO
When lockdown threatens to keep them apart, Oliver suggests they move in together. Ciara sees a unique opportunity for a relationship to flourish without the scrutiny of family and friends. Oliver sees a chance to hide who—and what—he really is.
TODAY
Detectives arrive at Oliver's apartment to discover a decomposing body inside.
Can they determine what really happened, or has lockdown created an opportunity for someone to commit the perfect crime?
---
Catherine Ryan Howard was born in Cork, Ireland. Her debut thriller, Distress Signals, was an Irish Times and USA Today bestseller and was short-listed for the Crime Writers' Association John Creasey New Blood Dagger and the Irish Crime Novel of the Year. Her second novel, The Liar's Girl, was a finalist for the 2019 Edgar Award for Best Novel. Her most recent novel, The Nothing Man, was a #1 bestseller in her native Ireland. She lives in Dublin.
---
Enjoy the discussion between Catherine Ryan Howard and Barbara Peters, The Poisoned Pen's owner.