Art thefts and forgeries. It's a fascinating topic in connection with Jonathan Santlofer's latest novel, The Last Mona Lisa. Barbara Peters, owner of The Poisoned Pen, hosted Santlofer for a virtual event. Of course, they discussed Florence, clothing, and art. If you're interested in the book, you'll want to watch the virtual event. There are signed copies available through the Web Store. https://bit.ly/3Btb92i
Here's the description of The Last Mona Lisa.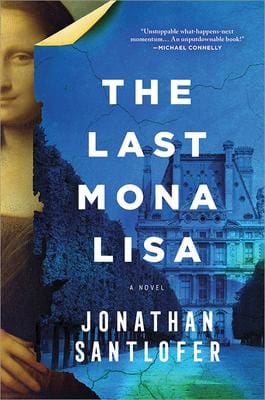 ONE OF PEOPLE MAGAZINE'S BEST BOOKS OF SUMMER!
"Unstoppable what-happens-next momentum."—Michael Connelly, #1 New York Times bestselling author
"A deliciously tense read."—Ruth Ware, #1 New York Times bestselling author
From award-winning crime writer and celebrated artist Jonathan Santlofer comes an enthralling tale about the 1911 theft of the Mona Lisa from the Louvre, the forgeries that appeared in its wake, and the present-day underbelly of the art world.
August, 1911: The Mona Lisa is stolen by Vincent Peruggia. Exactly what happens in the two years before its recovery is a mystery. Many replicas of the Mona Lisa exist, and more than one historian has wondered if the painting now returned to the Louvre is a fake, switched in 1911.
Present day: Art professor Luke Perrone digs for the truth behind his most famous ancestor: Peruggia. His search attracts an Interpol detective with something to prove and an unfamiliar but curiously helpful woman. Soon, Luke tumbles deep into the world of art and forgery, a land of obsession and danger.
The Last Mona Lisa is a suspenseful and seductive tale, perfect for fans of the Netflix documentaries This Is A Robbery and Made You Look and readers obsessed with the world of art heists and forgeries.
---
JONATHAN SANTLOFER is a writer and artist. His debut novel, THE DEATH ARTIST, was an international bestseller and his novel, ANATOMY OF FEAR, won the Nero Award for best crime novel of 2009. Jonathan created the Crime Fiction Academy as The Center for Fiction. As an artist, Jonathan has made replications of famous paintings for more than 20 years.
---
Here's the virtual event featuring Jonathan Santlofer.