Bloodless marks the 20th Agent Pendergast novel by Douglas Preston and Lincoln Child. Barbara Peters, owner of The Poisoned Pen welcomed the authors for a virtual event to celebrate the new book. The books went quickly, but you can order a copy through the Web Store, and it will be sent when they're back in stock. https://bit.ly/2us95e9
Here's the summary of Bloodless.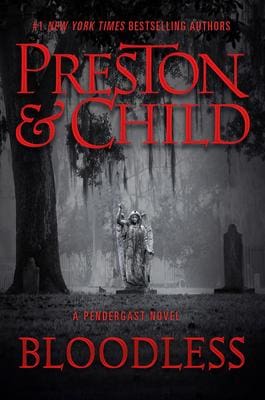 Agent Pendergast faces his most unexpected challenge yet when bloodless bodies begin to appear in Savannah, GA, in this next installment of the #1 NYT bestselling series.A legendary heist:
On the evening of November 24, 1971, D. B. Cooper hijacked Flight 305 — Portland to Seattle — with a fake bomb, collected a ransom of $200,000, and parachuted into the night, never to be seen again… Perhaps.
A brutal crime steeped in malevolence:
Fifty years later, Agent Pendergast takes on a bizarre and gruesome case: in the ghost-haunted city of Savannah, Georgia, bodies are found completely drained of blood–sowing panic and reviving the infamous legend of the Savannah Vampire.
A case like no other in Pendergast's career:
Through twists and turns, Pendergast and his partner, Agent Coldmoon, race to understand how these murders are connected to the most mystifying hijacking in American history. Together, they discover not just the killer-but an unearthly evil beyond all reckoning.
---
The thrillers of Douglas Preston and Lincoln Child "stand head and shoulders above their rivals" (Publishers Weekly). Preston and Child's Relic and The Cabinet of Curiosities were chosen by readers in a National Public Radio poll as being among the one hundred greatest thrillers ever written, and Relic was made into a number-one box office hit movie. They are coauthors of the famed Pendergast series and their recent novels include Crooked River, Verses for the Dead, City of Endless Night, and The Obsidian Chamber. In addition to his novels, Douglas Preston writes about archaeology for The New Yorker and National Geographic magazines. Lincoln Child is a Florida resident and former book editor who has published seven novels of his own, including bestsellers such as Full Wolf Moon and Deep Storm.
Readers can sign up for The Pendergast File, a monthly "strangely entertaining" newsletter from the authors, at their website, PrestonChild.com. The authors welcome visitors to their Facebook page, where they post regularly.
---
Enjoy the conversation between the authors and Barbara Peters.