Tess Gerritsen and Gary Braver met at a cocktail party a few years ago, and came up with the idea for their new book, Choose Me. It's set in the world of what Barbara Peters, owner of The Poisoned Pen, referred to as "dark academia". There are signed copies of Choose Me available through the Web Store. https://bit.ly/3COsVPe
Here's the description of Choose Me.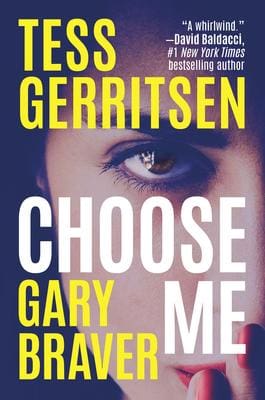 From New York Times bestseller Tess Gerritsen and acclaimed thriller writer Gary Braver comes a sexy murder mystery about a reckless affair and dangerous secrets.
Taryn Moore is young, beautiful, and brilliant…so why would she kill herself? When Detective Frankie Loomis arrives on the scene to investigate the girl's fatal plunge from her apartment balcony, she knows in her gut there's more to the story. Her instincts are confirmed when surprise information is revealed that could have been reason enough for Taryn's suicide—or a motive for her murder.
To English professor Jack Dorian, Taryn was the ultimate fantasy: intelligent, adoring, and completely off limits. But there was also a dark side to Taryn, a dangerous streak that threatened those she turned her affections to—including Jack. And now that she's dead, his problems are just beginning.
After Frankie uncovers a trove of sordid secrets, it becomes clear that Jack may know the truth. He is guilty of deception, but is he capable of cold-blooded murder?
---
International bestselling author Tess Gerritsen took an unusual route to a writing career: it wasn't until she was on maternity leave from her job as a physician that she began to write. Since then, she's written twenty-eight suspense novels, with more than thirty million copies sold. Her books have been translated into forty languages, and her series featuring homicide detective Jane Rizzoli and medical examiner Maura Isles inspired the hit TNT television series Rizzoli & Isles, starring Angie Harmon and Sasha Alexander. Gerritsen now writes full-time and lives in Maine.
Gary Braver—pen name of college professor Gary Goshgarian—is the bestselling author of eight critically acclaimed mysteries and thrillers, including Gray Matter and Flashback, the first thriller to win the Massachusetts Book Award. His work has been translated into several languages; two have been optioned for film, including Elixir. As Gary Goshgarian, he teaches science fiction, horror fiction, bestsellers, and fiction writing at Northeastern University. He lives with his family outside Boston. Learn more at www.GaryBraver.com.
---
You'll want to hear the backstory of the writing of Choose Me.