Barbara Peters, owner of The Poisoned Pen, recently introduced a virtual event featuring B.A. Paris, author of The Therapist, and guest host Gilly MacMillan. Paris' The Therapist was the bookstore's July British Book of the Month. You can still order copies, as well as copies of her earlier books, through the Web Store. https://bit.ly/2TNCDzL
Here's the description of The Therapist.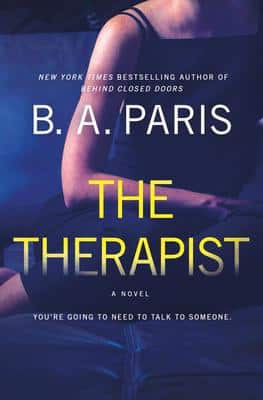 The multimillion-copy New York Times bestselling author B.A. Paris returns to her heartland of gripping psychological suspense in The Therapist—a powerful tale of a house that holds a shocking secret.
When Alice and Leo move into a newly renovated house in The Circle, a gated community of exclusive houses, it is everything they've dreamed of. But appearances can be deceptive…
As Alice is getting to know her neighbours, she discovers a devastating secret about her new home, and begins to feel a strong connection with Nina, the therapist who lived there before.
Alice becomes obsessed with trying to piece together what happened two years before. But no one wants to talk about it. Her neighbors are keeping secrets and things are not as perfect as they seem…
---
B. A. PARIS is the New York Times and internationally bestselling author of Behind Closed Doors, The Breakdown, Bring Me Back, The Dilemma, and The Therapist. Having lived in France for many years, she and her husband now live in the UK. She has worked both in finance and as a teacher, and she has five daughters.
---
Enjoy the conversation about The Therapist.