I watched the live virtual event when Patrick Millikin from The Poisoned Pen talked with S.A. Cosby, and I've been waiting to share the conversation about Razorblade Tears. Cosby is the author of last year's Blacktop Wasteland, so they discuss that as well. There are copies of that book, and signed copies of Razorblade Tears available through the Web Store. https://bit.ly/3jbcyTF
Here's the summary of Razorblade Tears.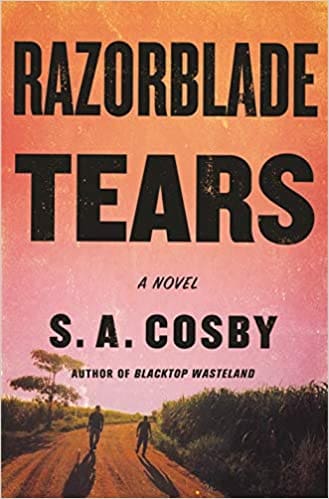 *INSTANT NEW YORK TIMES BESTSELLER*
"Provocative, violent — beautiful and moving, too." —Washington Post
"Superb…Cuts right to the heart of the most important questions of our times." —Michael Connelly
"A tour de force "" poignant, action-packed, and profound." —Milwaukee Journal Sentinel
A Black father. A white father. Two murdered sons. A quest for vengeance.
Ike Randolph has been out of jail for fifteen years, with not so much as a speeding ticket in all that time. But a Black man with cops at the door knows to be afraid.
The last thing he expects to hear is that his son Isiah has been murdered, along with Isiah's white husband, Derek. Ike had never fully accepted his son but is devastated by his loss.
Derek's father Buddy Lee was almost as ashamed of Derek for being gay as Derek was ashamed of his father's criminal record. Buddy Lee still has contacts in the underworld, though, and he wants to know who killed his boy.
Ike and Buddy Lee, two ex-cons with little else in common other than a criminal past and a love for their dead sons, band together in their desperate desire for revenge. In their quest to do better for their sons in death than they did in life, hardened men Ike and Buddy Lee will confront their own prejudices about their sons and each other, as they rain down vengeance upon those who hurt their boys.
Provocative and fast-paced, S. A. Cosby's Razorblade Tears is a story of bloody retribution, heartfelt change – and maybe even redemption.
"A visceral full-body experience, a sharp jolt to the heart, and a treat for the senses…Cosby's moody southern thriller marries the skillful action and plotting of Lee Child with the atmosphere and insight of Attica Locke." —NPR
---
S. A. Cosby is an Anthony Award-winning writer from southeastern Virginia. His the bestselling author of Blacktop Wasteland, a New York Times Book Review Editors' Choice and Goodreads Choice Awards semifinalist, as well as Brotherhood of the Blade and My Darkest Prayer. When not writing, he is an avid hiker and chess player.
---
Enjoy the virtual event with S.A. Cosby.