Peter Abrahams, aka Spencer Quinn, is the author of eleven Chet and Bernie PI novels. Barbara Peters, owner of The Poisoned Pen, hosted him for a discussion of his latest book, Tender is the Bite. Abrahams discusses that partnership, that Bernie is the PI, and, as in other partnerships, the sidekick is the narrator. If you're not familiar with the series, Chet is the narrator, but he's not a talking dog. You'll want to watch the video to hear the author talk about Chet. Signed copies of Tender is the Bite are available through the Web Store. https://bit.ly/3rEKdJm
Here is the description of Tender is the Bite.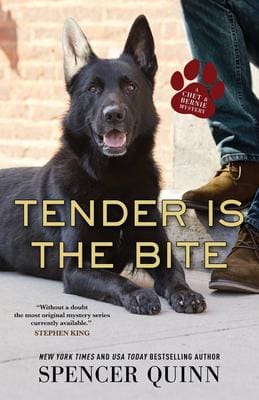 THE INSTANT USA TODAY BESTSELLER

Spencer Quinn's Tender Is the Bite is a brand new adventure in the New York Times and USA Today bestselling series that Stephen King calls "without a doubt the most original mystery series currently available."
Chet and Bernie are contacted by a terribly scared young woman who seems to want their help. Before she can even tell them her name, she flees in panic. But in that brief meeting Chet sniffs out an important secret about her, a secret at the heart of the mystery he and Bernie set out to solve.
It's a case with no client and no crime and yet great danger, with the duo facing a powerful politician who has a lot to lose. Their only hope lies with a ferret named Griffie who adores Bernie. Is there room for a ferret in the Chet and Bernie relationship? That's the challenge Chet faces, the biggest of his career. Hanging in the balance are the lives of two mistreated young women and the future of the whole state.
---
Spencer Quinn is the pen name for Peter Abrahams, the Edgar-winning, New York Times and USA Today bestselling author of the Chet and Bernie mystery series, as well as the #1 New York Times bestselling Bowser and Birdie series for middle-grade readers. He lives on Cape Cod with his wife Diana and dog Pearl.
---
Here's the conversation about the Chet and Bernie books.