For a recent virtual event, Barbara Peters, owner of The Poisoned Pen, introduced Owen Matthews, author of Red Traitor. Alma Katsu, author of Red Widow, was the guest host for the event. Books by both authors can be found in the Web Store. https://store.poisonedpen.com/
Here's the description of Red Traitor, the sequel to Black Sun.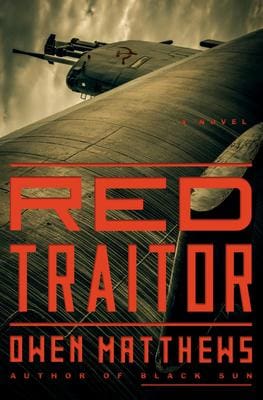 An electrifying new thriller set during the height of the Cuban Missile Crisis, seen from a bone-chilling vantage point: somewhere off the Florida coastline, trapped aboard the claustrophobic confines of an isolated Soviet submarine with open orders to fire its nuclear payload.
The year is 1962, and KGB Lieutenant Colonel Alexander Vasin is chasing a white elephant: the long-rumored existence of an American spy embedded at the highest echelon of Soviet power. In a wild-goose chase that has Vasin engaged in high-stakes espionage against a rival State agency, he first hears whispers of an ominous top-secret undertaking: Operation Anadyr.
As tensions flare between Nikita Khrushchev and President Kennedy over Russian missiles hidden in Cuba, four Soviet submarines are ordered to make a covert run at the American blockade in the Caribbean–each sub carrying tactical ballistic missiles armed with thermonuclear warheads.
Critically acclaimed novelist Owen Matthews has crafted an incredibly taut thriller around one of the most treacherous moments in modern history, where the fate of the world rested on the itchy trigger finger of one lone Soviet naval officer, 100-meters under the sea, out of all contact with his commanders.
---
OWEN MATTHEWS reported on conflicts in Bosnia, Lebanon, Afghanistan, Chechnya, Iraq, and Ukraine, and was Newsweek's bureau chief in Moscow. He is the author of Black Sun (2019), the first book in the series of political thrillers featuring KGB major Alexander Vasin, and is also the author of several nonfiction books, including Stalin's Children, Glorious Misadventures, and An Impeccable Sky.
---
Enjoy the conversation.