Although their books are not at all similar, authors Jeff Abbott and Susan Elia MacNeal are friends, so they joined forces for a recent virtual event at The Poisoned Pen. Abbott's latest standalone is An Ambush of Widows. MacNeal's latest Maggie Hope mystery is The Hollywood Spy. Signed copies of both books are available through the Web Store. https://store.poisonedpen.com/
Here's the summary of An Ambush of Widows.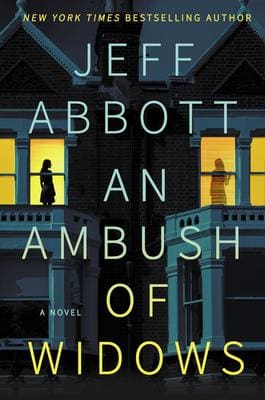 In New York Times bestselling author Jeff Abbott's latest novel of riveting psychological suspense, an uneasy alliance forms as two widows delve into their husbands' deadly and dangerous secrets—as they try to protect their own.
Henry North is a down-on-his-luck cybersecurity expert from New Orleans. Adam Zhang is the cofounder of one of Austin's most successful venture capitalist firms. These two men didn't know each other. They had never met. Yet they died together, violently, in a place neither had any business being.
When Henry doesn't return from a business trip, his wife, Kirsten, panics—and then gets an anonymous phone call: "Your husband is dead in Austin."
Flora Zhang knew her husband was keeping secrets. She suspected an affair, but she had decided she could forgive him for his weakness—until her husband ended up dead. And with no explanation for her husband's murder, the police begin to suspect her.
Together, these two widows will face a powerful foe determined to write a false narrative about the murders. In doing so, neither Flora nor Kirsten will remain the women the world thought they were.
---
Jeff Abbott is the New York Times bestselling author of nineteen novels. He is the winner of an International Thriller Writers Award (for the Sam Capra thriller The Last Minute) and is a three-time nominee for the Edgar Award. A former President of Mystery Writers of America, he lives in Austin with his family. You can visit his website at JeffAbbott.com.
---
Here's the description of The Hollywood Spy.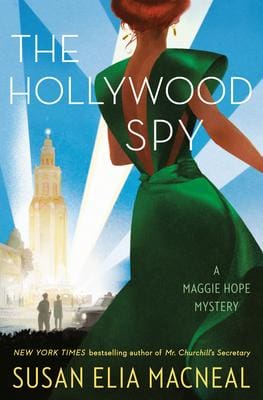 Maggie Hope is off to California to solve a crime that hits too close to home—and confront the very evil she thought she had left behind in Europe—as theacclaimed World War II mystery series from New York Times bestselling author Susan Elia MacNeal continues.
"A swift, vibrant novel that peels back the asbestos curtain on the complex history of Los Angeles, home to heroes and villains."—Steph Cha, author of Your House Will Pay
Los Angeles, 1943. As the Allies beat back the Nazis in the Mediterranean and the United States military slowly closes in on Tokyo, Walt Disney cranks out wartime propaganda and the Cocoanut Grove is alive with jazz and swing every night. But behind this sunny façade lies a darker reality. Somewhere in the lush foothills of Hollywood, a woman floats lifeless in the pool of one of California's trendiest hotels.
When American-born secret agent and British spy Maggie Hope learns that this woman was engaged to her former fiancée, John Sterling, and that he suspects her death was no accident, intuition tells her he's right. Leaving London under siege is a lot to ask. But John was once the love of Maggie's life . . . and she won't say no.

Maggie struggles with seeing her lost love again, but what's more shocking is that her own country is as divided and convulsed with hatred as Europe. The Zoot Suit Riots loom large in Los Angeles, and the Ku Klux Klan casts a long shadow everywhere. But there is little time to dwell on memories once she starts digging into the case. As she traces a web of deception from the infamous Garden of Allah to the iconic Carthay Circle Theater, she discovers things aren't always the way things appear in the movies—and the political situation in America is more complicated, and dangerous, than the newsreels would have them all believe.
---
Susan Elia MacNeal is the New York Times bestselling author of the Maggie Hope mysteries. MacNeal won the Barry Award and has been nominated for the Edgar, Macavity, Agatha, Left Coast Crime, Dilys, and ITW Thriller awards. She lives in Brooklyn, New York, with her husband and son. The Hollywood Spy is her tenth novel.
---
Barbara Peters, owner of The Poisoned Pen, hosted the conversation. Enjoy!