Just look at that adorable cover of Dog Eat Dog, the latest Andy Carpenter mystery. David Rosenfelt's books have great covers if you love cute dogs. Barbara Peters, owner of The Poisoned Pen, has a comment or two about the latest cover. You can order signed copies of Dog Eat Dog, and Rosenfelt's other books, through the Web Store. https://bit.ly/2ZmRgd8
Here's the summary of Dog Eat Dog.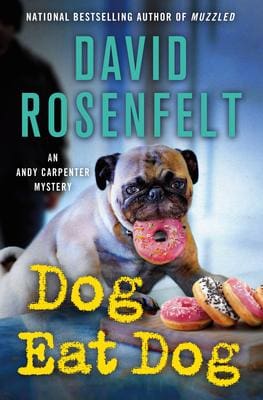 Lawyer Andy Carpenter and his golden retriever, Tara, work to free a man who risked it all to help a dog in need
Lawyer Andy Carpenter and his wife, Laurie, enjoy walking their dogs, Tara and Sebastian. By this point in their marriage, it's routine. When out for one of their strolls, their simple ritual isn't so simple anymore. Across the street, a man is mistreating his dog. Three things happen at once: Andy yells, Laurie runs to stop the abuse, and so does a closer passerby, who so thoroughly beats the owner that both are arrested when the cops arrive.
Andy scoops up the dog and takes him to the Tara Foundation, the dog rescue organization that's always been his true passion. Meanwhile, at the police station, the passerby is identified as Matthew Jantzen, and he's wanted for murder. Andy and Laurie are struck by the fact that Jantzen, a man on the run, would nevertheless intervene to help a dog, and decide to find out more.
Dog Eat Dog, the twenty-second installment in the Andy Carpenter series, features the charming cast of characters – old and new – that David Rosenfelt is known for and the dogs that accompany them.
---
DAVID ROSENFELT is the Edgar-nominated and Shamus Award-winning author of more than twenty Andy Carpenter novels, including One Dog Night, Collared, and Deck the Hounds; its spinoff series, The K-Team; the Doug Brock thriller series, which starts with Fade to Black; and stand-alone thrillers including Heart of a Killer and On Borrowed Time. Rosenfelt and his wife live in Maine with an ever-changing pack of rescue dogs. Their epic cross-country move with 25 of these dogs, culminating in the creation of the Tara Foundation, is chronicled in Dogtripping.
---
Enjoy the discussion about David Rosenfelt's books.