It's been seven years, but Miss Fisher is back, and Kerry Greenwood's latest book in the Phryne Fisher series, Death in Daylesford, is the Hot Book of the Week at The Poisoned Pen. You can order copies of it, and other books in the series, through the Web Store. https://bit.ly/2JfL7W5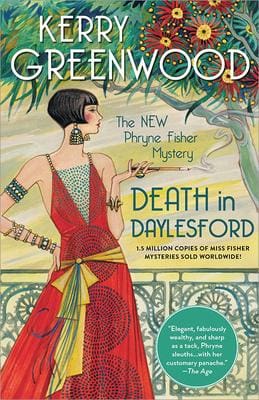 The 7 year wait is over—Miss Fisher is back in a new adventure!
"The real star is Phryne with her Jazz Age fashions, devil-may-care attitude, and dry narrative wit."—Booklist
Taking the waters has never been more delicious—or dangerous…
When a mysterious invitation for a spa vacation arrives for Miss Phryne Fisher from an unknown retired Captain Herbert Spencer, Phryne's curiosity is piqued. Spencer runs a retreat in Victoria's rural spa country for shell-shocked veterans of World War I. It's a cause after Phryne's own heart, but what can Spencer want from her?
Phryne and her faithful servant Dot set out for Daylesford, viewing their rural sojourn as a short holiday. While Dot gets to know the remarkable women who run the hotel where they are lodging, Phryne enjoys an enticing meal—and dessert—with the attractive Captain Spencer. But their relaxation is short-lived as they are thrown into treacherous Highland gatherings, a mysterious case of disappearing women, and a string of murders committed under their very noses. Meanwhile, back at home, Phryne's three wards are busy solving a mystery of their own when a schoolmate is found floating facedown near the docks—and pregnant at the time of her death.
Read the novels that inspired both the Miss Fisher Murder Mysteries and the Ms. Fisher's Modern Mysteries streaming series on AcornTV.
Phryne Fisher Mysteries by Kerry Greenwood
Cocaine Blues
Flying Too High
Murder on the Ballarat Train
Praise for the Phryne Fisher Mysteries
"Anyone who hasn't discovered Phryne Fisher by now should start making up for lost time."—Booklist
"Phryne handsomely demonstates once more that even a compulsion to explore every mystery that comes her way needn't interfere with her appetite for life."—Kirkus Reviews
---
Kerry Greenwood was born in the Melbourne suburb of Footscray and after wandering far and wide, she returned to live there. She has degrees in English and Law from Melbourne University and was admitted to the legal profession on the 1st April 1982, a day which she finds both soothing and significant. Kerry has written three series, a number of plays, including The Troubadours with Stephen D'Arcy, is an award-winning children's writer and has edited and contributed to several anthologies. The Phryne Fisher series (pronounced Fry-knee, to rhyme with briny) began in 1989 with Cocaine Blues which was a great success. Kerry has written twenty books in this series with no sign yet of Miss Fisher hanging up her pearl-handled pistol. Kerry says that as long as people want to read them, she can keep writing them. In 2003 Kerry won the Lifetime Achievement Award from the Australian Association.