J.A. Jance debuted her latest Ali Reynolds mystery, Unfinished Business, for a Poisoned Pen virtual event. Signed copies of the book are going fast, so check the Web Store. https://bit.ly/3fQACe6
Here's the summary of Unfinished Business.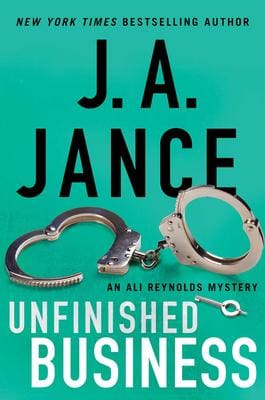 In this heart-pounding and sharply written thriller from J.A. Jance, the "grand master of the genre" (The Providence Journal), Ali Reynolds's personal life is thrown into turmoil just as two men show up on the scene—a former employee of her husband's who has just been released from prison and a serial killer who sets his sights a little too close to home.
Mateo Vega, a one-time employee of Ali Reynold's husband, B. Simpson, has spent the last sixteen years of his life behind bars. According to the courts, he murdered his girlfriend. But Mateo knows that her real killer is still on the loose, and the first thing he's going to do when he gets a taste of freedom is track him down.
After being granted parole, a wary Mateo approaches Stu Ramey of High Noon Enterprises for a reference letter for a job application, but to his surprise, Stu gives him one better: He asks him to come on board and work for B. once again. Just as Mateo starts his new job, though, chaos breaks out at High Noon—a deadbeat tenant who is in arrears has just fled, and tech expert Cami Lee has gone missing.
As Ali races to both find a connection between the two disappearances and help Mateo clear his name with the help of PI J.P. Beaumont, tragedy strikes in her personal life, and with lives hanging in the balance, she must thread the needle between good and evil before it's too late.
---
J.A. Jance is the New York Times bestselling author of the Ali Reynolds series, the J.P. Beaumont series, and the Joanna Brady series, as well as five interrelated Southwestern thrillers featuring the Walker family. Born in South Dakota and brought up in Bisbee, Arizona, Jance lives with her husband in Seattle, Washington, and Tucson, Arizona. Visit her online at JAJance.com.
---
Here's the virtual event with J.A. Jance and Barbara Peters, owner of The Poisoned Pen.
And, for J.A. Jance's fans, here's a little extra, an article she wrote for https://CrimeReads.com. You can find it here. https://crimereads.com/the-art-of-balancing-multiple-mystery-series/