Don't you love the subtitle of John Mullan's book, The Artful Dickens: The Tricks and Ploys of the Great Novelist? He and Patrick Millikin from The Poisoned Pen talk about the fact that some of the techniques used by modern novelists are not new. Dickens did it first. You can order a copy of the book through the Web Store. https://bit.ly/3p4EbAl
Here's The Artful Dickens: The Tricks and Ploys of the Great Novelist.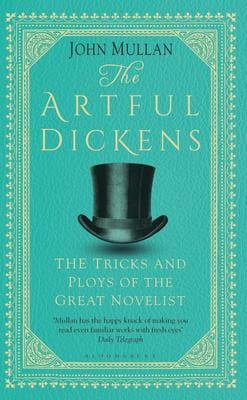 'One for your Christmas list … A feast of Dickensian knowledge' The Times

'This is a marvellous, endlessly illuminating book … It doesn't go on the shelf alongside other critics; it goes on the shelf alongside Dickens' Howard Jacobson
Discover the tricks of a literary master in this essential guide to the fictional world of Charles Dickens.
From Pickwick to Scrooge, Copperfield to Twist, how did Dickens find the perfect names for his characters?
What was Dickens's favourite way of killing his characters?
When is a Dickens character most likely to see a ghost?
Why is Dickens's trickery only fully realised when his novels are read aloud?
In thirteen entertaining and wonderfully insightful essays, John Mullan explores the literary machinations of Dickens's eccentric genius, from his delight in clichés to his rendering of smells and his outrageous use of coincidences. A treat for all lovers of Dickens, this essential companion puts his audacity, originality and brilliance on full display.
---
John Mullan is a professor in the English department at UCL. He writes the regular 'Guardian Book Club' column on fiction in the Guardian and frequently appears on the BBC's Review Show. He was a judge of the 'Best of the Booker Prize' in 2008 and a judge of the Man Booker Prize itself in 2009. He has lectured widely on Jane Austen in the UK and also in the US, and makes regular appearances at the UK literary festivals.
---
Enjoy the conversation.