I've been waiting to share this virtual event with you since I stayed up to watch it the other night. Ellen Crosby hosted Stephen Mack Jones whose Dead of Winter is the Hot Book of the Week at The Poisoned Pen. You can still order signed copies of the third August Snow novel. Check the Web Store. https://bit.ly/3nq12nD
Here's Dead of Winter.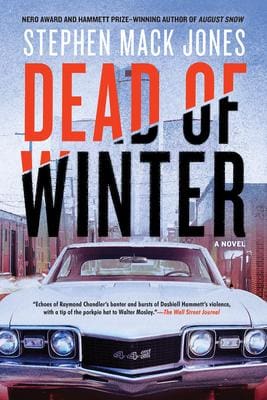 A shadowy Detroit real estate billionaire. A ruthless fixer. A successful Mexicantown family business in their crosshairs. Gentrification has never been bloodier.
Authentico Foods Inc. has been a part of Detroit's Mexicantown for over thirty years, grown from a home kitchen business to a city-blocklong facility that supplies Mexican tortillas to restaurants throughout the Midwest.
Detroit ex-cop and Mexicantown native August Snow has been invited for a business meeting at Authentico Foods. Its owner, Ronaldo Ochoa, is dying, and is being blackmailed into selling the company to an anonymous entity. Worried about his employees, Ochoa wants August to buy it. August has no interest in running a tortilla empire, but he does want to know who's threatening his neighborhood. Quickly, his investigation takes a devastating turn and he and his loved ones find themselves ensnared in a dangerous net of ruthless billionaire developers. August Snow must fight not only for his life, but for the soul of Mexicantown itself.
---
Stephen Mack Jones is a published poet, an award-winning playwright, and a recipient of the prestigious Hammett Prize, Nero Award, and the Kresge Arts in Detroit Literary Fellowship. He was born in Lansing, Michigan, and currently lives in the suburbs of Detroit. Dead of Winter is his third novel.
---
More than one of us is infatuated with Stephen Mack Jones' voice, if the comments in the chat the other night were any indication. Enjoy the conversation as he and Ellen Crosby discuss Detroit, food, and, of course, August Snow.