Patrick Millikin recently interviewed Wallace Stroby about his new book, Heaven's a Lie. But, the conversation was about books, music, journalism, not just Stroby's latest. You can order a signed copy of Heaven's a Lie through the Web Store.
Patrick calls Heaven's a Lie "an absolute killer". Here's the description.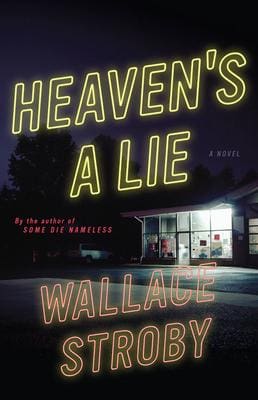 When a young widow witnesses a fatal car accident outside a Jersey Shore motel, she's suddenly thrust into a nightmare of gang violence, guns, and money that she can't outrun in this action-packed novel by "one of the best writers in crime fiction" (Alison Gaylin)."‹
Joette Harper's life brings new meaning to the phrase "paycheck to paycheck." Struggling to afford her mother's sky-high medical bills
and also keep the lights on in her trailer home, Joette needs a break.
So, when she spies a bag full of money amongst the wreckage of a fiery car accident, she knows she can't just let it be. Inside is a bounty better than she could have dreamed—just shy of $300,000 in neatly stacked hundreds and fifties. Enough to pay off her debts, give her mother the care she deserves, and maybe even help out a few of her friends.
But, of course, the missing briefcase didn't go unnoticed by its original owner, Travis Clay—a ruthless dealer who'll stop at nothing to get back what's his.
Joette is way out of her depth, but can't seem to stop herself from participating in this cat-and-mouse chase. But can she beat Travis at his own game?
---
Wallace Stroby is an award-winning journalist and the author of eight previous novels, four of which feature Crissa Stone, the professional thief labeled "crime fiction's best bad girl ever." His first novel, The Barbed-Wire Kiss, was a Barry Award finalist for best debut novel. A native of Long Branch, N.J., he's a lifelong resident of the Jersey Shore.
---
Enjoy the conversation.