Barbara Peters, owner of The Poisoned Pen, introduced two authors who feature working dogs in their mysteries. Paula Munier's third Mercy Carr book is The Hiding Place. Margaret Mizushima's most recent Timber Creek K-9 Mystery is Hanging Falls. Margaret Mizushima actually acted as host for the event, which focused on The Hiding Place. You can find books by both authors in the Web Store, however, with the focus on Mercy Carr and her dog, Elivs, here's the link to her page. https://bit.ly/373HChB
Here's The Hiding Place.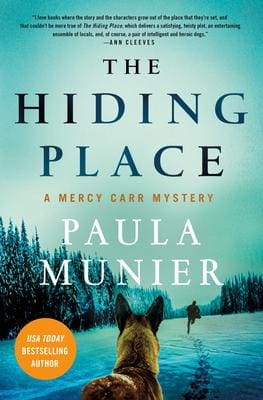 Mercy and Elvis are back in The Hiding Place, the most enthralling entry yet in USA Today bestselling Paula Munier's award-winning Mercy Carr mystery series. When the man who killed her grandfather breaks out of prison and comes after her grandmother, Mercy must unearth the long-buried scandals that threaten to tear her family apart. And she may have to do it without her beloved canine partner Elvis, if his former handler has his way….
Some people take their secrets with them to the grave. Others leave them behind on their deathbeds, riddles for the survivors to solve.
When her late grandfather's dying deputy calls Mercy to his side, she and Elvis inherit the cold case that haunted him—and may have killed him. But finding Beth Kilgore 20 years after she disappeared is more than a lost cause. It's a Pandora's box releasing a rain of evil on the very people Mercy and Elvis hold most dear.
The timing couldn't be worse when the man who murdered her grandfather escapes from prison and a fellow Army vet turns up claiming that Elvis is his dog, not hers. With her grandmother Patience gone missing, and Elvis's future uncertain, Mercy faces the prospect of losing her most treasured allies, the only ones she believes truly love and understand her.
She needs help, and that means forgiving Vermont Game Warden Troy Warner long enough to enlist his aid. With time running out for Patience, Mercy and Elvis must team up with Troy and his search-and-rescue dog Susie Bear to unravel the secrets of the past and save her grandmother—before it's too late.
Once again, Paula Munier crafts a terrific mystery thriller filled with intrigue, action, resilient characters, the mountains of Vermont, and two amazing dogs.
---
PAULA MUNIER is the USA TODAY bestselling author of the Mercy and Elvis mysteries. A Borrowing of Bones, the first in the series, was nominated for the Mary Higgins Clark Award and named the Dogwise Book of the Year. Blind Search was inspired by the real-life rescue of a little boy with autism who got lost in the woods. Paula credits the hero dogs of Mission K9 Rescue, her own rescue dogs Bear, Bliss, and Blondie—a Malinois mix as loyal and smart as Elvis—and a lifelong passion for crime fiction as her series' major influences. She's also written three popular books on writing: Plot Perfect, The Writer's Guide to Beginnings, and Writing with Quiet Hands, as well as Fixing Freddie and Happier Every Day. She lives in New Hampshire with her family, the dogs, and a torbie tabby named Ursula.
---
Enjoy the virtual event with Paula Munier and Margaret Mizushima.