How could there be a conversation with David Rosenfelt without a discussion of dogs and the dogs on his book covers? He and Barbara Peters, owner of The Poisoned Pen, talked about his latest book, Animal Instinct, A K Team Novel. If you're checking the Web Store, there will be signed copies available. https://bit.ly/2ZmRgd8
Here's the background of Animal Instinct.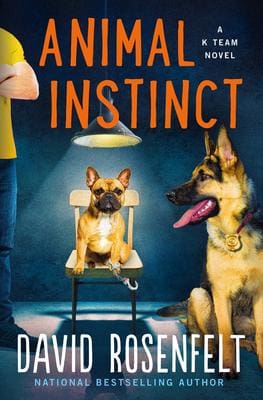 The K Team is back in the second installment in this spinoff series from bestselling author David Rosenfelt's beloved Andy Carpenter mysteries.
Corey Douglas and his K-9 partner, a German shepherd named Simon Garfunkel, are recently retired police officers turned private investigators. Along with fellow former cop Laurie Collins and her investigating partner, Marcus, they call themselves the K Team, in honor of Simon.
The K Team's latest case "" a recent unsolved murder "" gives Corey a chance to solve "the one that got away". Corey knew the murder victim from his time on the force, when he was unable to protect her in a domestic dispute. Now, he is convinced the same abusive boyfriend is responsible for her murder. With some help from Laurie's lawyer husband, Andy Carpenter, the K Team is determined to prove what the police could not, no matter the cost. What they uncover is much more sinister than they could have imagined.
Known for his dog-loving stories and addictive characters, bestselling mystery author David Rosenfelt presents Animal Instinct, the second installment in this engrossing new series about a dynamite investigative team and their canine partner.
---
DAVID ROSENFELT is the Edgar-nominated and Shamus Award-winning author of more than twenty Andy Carpenter novels, including One Dog Night, Collared, and Deck the Hounds; its spinoff series, The K-Team; the Doug Brock thriller series, which starts with Fade to Black; and stand-alone thrillers including Heart of a Killer and On Borrowed Time. Rosenfelt and his wife live in Maine with an ever-changing pack of rescue dogs. Their epic cross-country move with 25 of these dogs, culminating in the creation of the Tara Foundation, is chronicled in Dogtripping.
---
Enjoy the discussion of Animal Instinct and dogs.