Lies and more lies. Will you know who to trust with two authors whose books both have lies in the titles? Allison Brennan's new book, Tell No Lies, is the Hot Book of the Week at The Poisoned Pen. J.T. Ellison, the host for the recent virtual event, is the author of a gothic novel, Her Dark Lies. You can order both books through the Web Store. https://store.poisonedpen.com/
Here's Tell No Lies.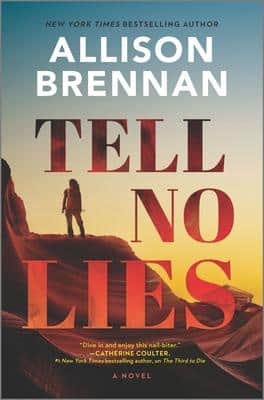 The unsolved murder of a young activist leads to the discovery of much darker crimes in New York Times bestselling author Allison Brennan's latest compelling thriller to feaure the young, edgy detective Kara Quinn and the loner FBI agent Matt Costa. This time they work to uncover possible ties to a high-stakes cartel in the Southwest desert.
Something mysterious is killing the wildlife in the mountains just south of Tucson. When a college intern turned activist sets out to collect her own evidence, she, too, ends up dead. Local law enforcement is slow to get involved. That's when the mobile FBI unit goes undercover to infiltrate the town and its copper refinery in search of possible leads.
Quinn and Costa find themselves scouring the desolate landscape, which keeps revealing clues to something much darker—greed, child trafficking and more death. As the body count adds up, it's clear they have stumbled onto much more than they bargained for. Now they must figure out who is at the heart of this mayhem and stop them before more innocent lives are lost.
A Quinn & Costa Thriller
Book 1: The Third to Die
Book 2: Tell No Lies
---
ALLISON BRENNAN is the New York Times and USA TODAY bestselling author of over thirty novels. She has been nominated for Best Paperback Original Thriller by International Thriller Writers and the Daphne du Maurier Award. A former consultant in the California State Legislature, Allison lives in Arizona with her husband, five kids and assorted pets.
---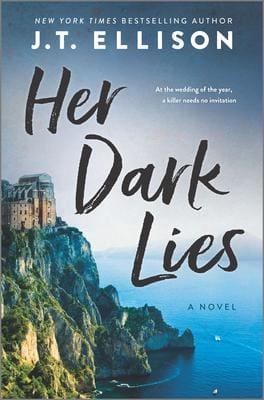 Check out Her Dark Lies.
If you only read one thriller this year…
"A great modern gothic. Ellison outdid herself— what an ending!" —Catherine Coulter, #1 NYT bestselling author of VORTEX.
Fast-paced and brilliantly unpredictable, J.T. Ellison's breathtaking new novel invites you to a wedding none will forget—and some won't survive.
Jutting from sparkling turquoise waters off the Italian coast, Isle Isola is an idyllic setting for a wedding. In the majestic cliff-top villa owned by the wealthy Compton family, up-and-coming artist Claire Hunter will marry handsome, charming Jack Compton, surrounded by close family, intimate friends…and a host of dark secrets.
From the moment Claire sets foot on the island, something seems amiss. Skeletal remains have just been found. There are other, newer disturbances, too. Menacing texts. A ruined wedding dress. And one troubling shadow hanging over Claire's otherwise blissful relationship—the strange mystery surrounding Jack's first wife.
Then a raging storm descends, the power goes out—and the real terror begins…
---
J.T. Ellison is the New York Times and USA Today bestselling author of more than 25 novels, and the EMMY® award winning co-host of the literary show A WORD ON WORDS. With millions of books in print, her work has won critical acclaim, prestigious awards, and has been published in 28 countries. She lives in Nashville with her husband and twin kittens.
---
Enjoy the conversation between Allison Brennan and J.T. Ellison.