When Barbara Peters, owner of The Poisoned Pen, introduced Jack Carr, the host for a recent program, she stressed his background. Then, Jack Carr, as host, introduced Don Bentley. If you're a fan of espionage/adventure/thrillers, I think you'll be interested. Don Bentley's latest book, The Outside Man, was the featured title. You can order a signed copy of it through the Web Store. https://bit.ly/3t6USvV
Here's The Outside Man.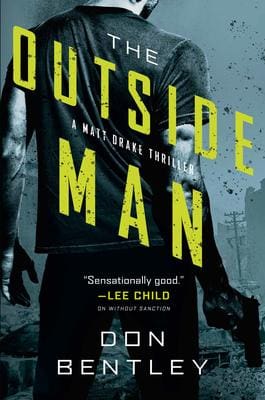 The fight for freedom has sent Matt Drake to some of the world's most dangerous spots. This time the war is coming to his front door.
Broad daylight on an Austin, Texas, street and DIA operative Matt Drake is fighting for his life against a highly trained team of assassins. Who are they? Why do they want him dead? How will he protect those closest to him?
The answers will take him into some of the most dangerous spots in the Middle East and will put him in the clutches of an old foe known simply as the Devil. It's a world of double crosses, with no boundaries between the guilty and the innocent. It will take all of Drake's wiles to get out alive.
---
Don Bentley spent a decade as an Army Apache helicopter pilot, and while deployed in Afghanistan was awarded the Bronze Star Medal and the Air Medal with "V" device for valor. Following his time in the military, Don worked as an FBI special agent focusing on foreign intelligence and counterintelligence and was a Special Weapons and Tactics (SWAT) team member.
---
Enjoy the conversation between Don Bentley and Jack Carr.