Congratulations to Sourcebooks/Poisoned Pen Press author Mary Anna Evans. Her Faye Longchamp Archaeological Mystery, Catacombs, won a gold medal in the category "Maverick" for the Will Rogers Medallion Awards. We seldom talk about westerns, but here's the background of this award.
"Will Rogers was a respected writer and cowboy entertainer whose work embodied and demonstrated the traditions and values of the American cowboy.  The Will Rogers Medallion Award was originally created to recognize quality works of cowboy poetry that honored the Will Rogers heritage, but has expanded to include other works of Western literature and film."
You can find the list of award winners here – https://www.willrogersmedallionaward.net/new-release. I'm sure you'll recognize another book or two, such as Craig Johnson's award-winning Longmire title, Land of Wolves.
You can order Mary Anna Evans' books through the Web Store. https://bit.ly/2IrcqLo
Here's the summary of Catacombs.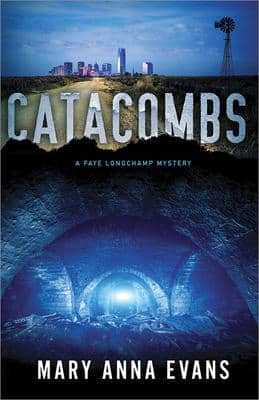 What secrets lie deep beneath the surface?
A deafening explosion rocks a historic Oklahoma City hotel, sending archaeologist Faye Longchamp-Mantooth crashing to the marble floor of the lobby. She's unhurt but shaken—after all, any time something blows up in Oklahoma City, the first word on everyone's lips is the same: bomb.
Faye is in town for a conference celebrating indigenous arts, but is soon distracted by the aftermath of the explosion, which cracks open the old hotel's floor to reveal subterranean chambers that had housed Chinese immigrants a century before. Faye is fascinated by the tunnels, which are a time capsule back to the early 20th century—but when the bodies of three children are discovered deep beneath the city, her sense of discovery turns to one of dread…