It's the perfect time to share the New Year message from Sourcebooks/Poisoned Pen Press. Check the Web Store for the books mentioned in the newsletter. https://store.poisonedpen.com/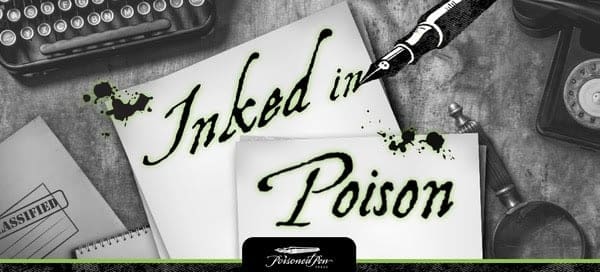 Happy New Year! We're saying goodbye to 2020 and hello to a new year…which also means NEW BOOKS!
We're giving you a sneak peek of some of our exciting upcoming books from January to June. Enjoy!
Laying Bones by Reavis Z. Wortham On Sale: January 12, 2021 | ISBN: 9781464214370

The stakes don't get much higher than murder… It's January 1969 in the small rural community of Center Springs, Texas. Constable Ned Parker is looking into the seemingly accidental death of his nephew R .B., who was found in his overturned pickup near Sanders Creek bridge. At first it appears that R. B. drowned in the shallow water, but something doesn't add up for Ned, who begins turning over stones in search of what really happened the night R. B. died.

As he works his way through the cover-up, which leads all the way to the coroner's office, Ned finds himself involved in a high-stakes game of consequences with no good end in sight. Are the good citizens of Center Springs conspiring against Constable Parker in his search for the truth?
Farm to Trouble by Amanda Flower On Sale: February 23, 2021 | ISBN: 9781492699910

A new cozy mystery series from USA Today bestselling author Amanda Flower!

Shiloh Bellamy cashed in her big city job and 401K to return home to Michigan to save the family farm, but turning Bellamy Farms into a sustainable, organic operation—complete with a farm-to-table café—is no small feat. Especially when her new investor is found dead among the flowers just hours after the contract is signed. Everyone knows her father had a grudge against the investor, and word travels fast in a small town… Now, Shiloh must clear her family's name and track down the real killer before her farm dreams wilt before her very eyes. But with her father trying to stop any progress on his land, her cousin belittling her every effort, the farmhouse falling down around her, and the whole town believing her family at fault, Shiloh has to carry the investigation on her shoulders or risk all her dreams drying up before they begin.
Fatal Scores by Mark de CastriqueOn Sale: March 2, 2021 | ISBN: 9781464213151

A river gives up its dead, but not its secrets…

Sam Blackman and Nakayla Robertson, partners in a private investigation agency in Asheville, North Carolina, are hired by the widow of an environmentalist who died while monitoring water quality in the nearby Pigeon River. No soil or water samples were found near the deceased, and his widow doesn't believe his death was an accident. Sam had, in fact, witnessed a public altercation between the man and local mill heir Luke Kirkpatrick just two days prior. Both Luke and his father, Ted, are prime suspects because of the threat that contamination poses to their proposed business expansion. Meanwhile, preparations for a local festival suffer some violent setbacks. Are the events related? And can Sam and Nakayla identify the killer and serve justice before Asheville is threatened once again?
A Deadly Twist by Jeffrey Siger On Sale: April 6, 2021 | ISBN: 9781464214264

Some crimes can never be forgiven—or atoned for…

When Athens journalist Nikoletta Elia disappears while on assignment on the island of Naxos, her editor calls on Chief Inspector Andreas Kaldis to investigate. Sent to report on the conflict between preservationists and advocates for expanded tourism, Nikoletta is approached by a fan who takes credit for several suspicious deaths she'd reported on in the past. The assassin claims to have abandoned that life, and convinces the reporter to write about him and his murderous exploits for hire. Kaldis sends his deputy, Yianni, to look into her disappearance when an unidentified body is found at the base of a cliff. Who is the mysterious corpse, and where is Nikoletta? Leads turn into more dead bodies in this twisting tale of greed, corruption, and murder that puts Kaldis, his family, and members of his team in the path of a ruthless killer who will stop at nothing to keep dark secrets buried—forever.
The Dead Husband by Carter Wilson On Sale: May 4, 2021 | ISBN: 9781728225081

A murderer, a victim, and a witness… but no one in this house is innocent.

Twenty years ago an unspeakable tragedy rocked Rose Yates's small, affluent hometown… and only Rose and her family know the truth about what happened.Haunted by guilt, Rose escaped into a new life. Now she seems to have it all: a marriage, a son, a career. And then her husband is found dead. As far as Detective Colin Pearson is concerned, Rose is guilty. Her marriage wasn't as happy as she'd led everyone to believe, and worse, she's connected to a twenty-year-old cold case. She can play the part of the victim, but he won't let her or her family escape justice this time around. Grieving her husband and struggling to make ends meet, Rose returns home, hoping to finally confront her domineering father and unstable sister. But memories of a horrific crime echo through the house, and Rose soon learns that she can't trust anyone, especially not the people closest to her
Death in Daylesford by Kerry Greenwood On Sale: June 1, 2021 | ISBN: 9781728234526

Taking the waters has never been more delicious—or dangerous…

When a mysterious invitation for a spa holiday arrives for Miss Phryne Fisher from an unknown retired Captain Herbert Spencer, Phryne's curiosity is piqued. Spencer runs a retreat in Victoria's rural spa country for shell-shocked veterans of World War I. It's a cause after Phryne's own heart, but what can Spencer want from her? Phryne and her faithful servant Dot set out for Daylesford, viewing their rural sojourn as a short holiday. While Dot gets to know the remarkable women who run the hotel where they are lodging, Phryne enjoys an enticing meal—and dessert—with the attractive Captain Spencer. But their relaxation is short-lived as they are thrown into treacherous Highland gatherings, a mysterious case of disappearing women, and a string of murders committed under their very noses. Meanwhile, back at home, Phryne's three wards are busy solving a mystery of their own when a schoolmate is found floating facedown near the docks—and pregnant at the time of her death.