I very seldom write a book review for this site. It's not the purpose of The Poisoned Pen's blog. But, it's a slow time of year for news from the bookstore. And, Bree Baker's Seaside Cafe mysteries are published by Sourcebooks/Poisoned Pen Press. Today is release date for the fifth in the series, Closely Harbored Secrets. You can find Bree Baker's books in the Web Store. https://bit.ly/3nWYEFV
Because the Seaside Cafe mysteries are some of my favorite cozies, I'm sharing my own review of the new book. I hope you enjoy the review, and check out the series.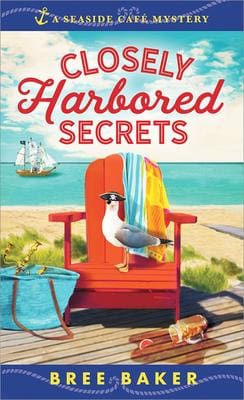 Some mystery series, even my favorite ones, have their ups and downs. Bree Baker's Seaside Cafe Mysteries, though, haven't let me down yet. The fifth one, Closely Harbored Secrets, is excellent, and it's one of my favorite cozy mysteries of the year.
Everly Swan has only been home to Charm, a small town on the Outer Banks of North Carolina, for two years. In that time, she's stumbled across four murder victims. The owner of Sun, Sand, and Tea, a seaside cafe and iced tea shop, is beginning to believe that she's cursed, and it's not the family curse saying Swan women can't leave the island, and the men they love are doomed to die young. When she finds a body on the night of the annual ghost walk, her fifth body, she feels guilty. And, someone took a picture of her looming over the victim, holding a bloody candelabra. It's all over the local blog site before Everly can say, "Not guilty."
Of course, it doesn't help that Everly follows her Aunt Clara to the historic mansion that's the headquarters for The Society for the Preservation and Retelling of Unrecorded History, and looks through the documents in the victim's office. When that office is ransacked, someone is sure that Everly took a map. Although Detective Grady Hays knows Everly is innocent, he isn't happy when she's threatened with a sword stuck in the middle of her porch, and a message, "Return the map."
Everly, Grady, and Everly's aunts are worried. Someone is trying to scare her, threatening her to give up a map she never saw, and doesn't have. She's just worried that, once again, she's the target of a psychotic killer, and she didn't do anything.
Baker skillfully weaves together three storylines in this excellent mystery. Of course, there's the mystery and its connection to the history of Charm and the Swan family. Everly's relationship with Grady is a second one. The third one, important to the city of Charm, is the upcoming mayoral election, pitting Everly's Aunt Fran against Everly's lifelong nemesis, and a third candidate, Grady's mother-in-law.
Closely Harbored Secrets is meatier than many cozy mysteries. It's a well-written series with a cast of characters who have interesting backgrounds. There's Everly who dropped out of culinary school to chase a rodeo cowboy. There are her great aunts, Clara and Fran, who are beekeepers and run the shop Blessed Bee, selling honey and wax products. Grady is a widower, a former US Marshal who moved to Charm after his wife's death, to raise his young son in a different environment. Of course, the stories include the history of the Swan women who left Salem at the time of the witchcraft trials, and were some of the founders of Charm. The history and legends of the Swan women are intriguing. No one can ignore the two animals that are Everly's friends, a seagull she calls Lou and the mysterious white cat, Maggie, who comes and goes as she pleases.
Bree Baker's Seaside Cafe mysteries are must-reads for me. And, Closely Harbored Secrets is one of the best in the series. Don't miss it.
Bree Baker's website is https://www.breebaker.com
Closely Harbored Secrets by Bree Baker. Sourcebooks/Poisoned Pen Press, 2021. ISBN 9781728205755 (paperback), 346p.