Barbara Peters, owner of The Poisoned Pen, recently talked with Jane K. Cleland, author of Hidden Treasure, on release date for the latest Josie Prescott mystery. Cleland brings her knowledge of the antiques business to this fascinating series. You can order a signed copy of Hidden Treasure, as well as signed copies of Cleland's other books, through the Web Store. https://bit.ly/3r0f4zl
Here's Hidden Treasure.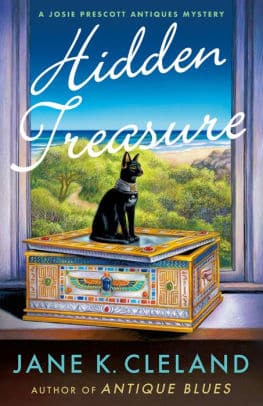 The discovery of a mysterious antique trunk leads to a disappearance—and murder—in the latest in this beloved cozy series set on the rugged New Hampshire coast, Jane K. Cleland's Hidden Treasure.
When antiques expert Josie Prescott finds a mysterious trunk, no one thinks it could lead to murder. Josie, the owner of Prescott's Antiques & Auctions, and her new husband, Ty, have finally found their dream home, a Victorian beauty on the beach known in the town of Rocky Point as the "Gingerbread House." It was recently vacated by Maudie Wilson, an aging widow, whose concerned nieces have moved her into a nearby assisted living facility. Josie befriends Maudie, who seems surprisingly sharp, considering her family's doubts about her soundness of mind.
As Josie and Ty joyfully begin renovations on the Gingerbread House, the nieces report that Maudie, in her forgetfulness, may have left behind an old trunk, which she's desperate to get back. Sure enough, Josie finds the trunk inside a hidden compartment, and within it a jewel-encrusted box holding a sculpture of a cat. Josie can understand the sense of urgency about getting the objects back—they look valuable, and not just in the sentimental sense.
But when Josie goes to return the box to Maudie, the woman has vanished. And on the floor of her empty apartment lies a corpse, a woman bludgeoned to death. Sick with worry for Maudie's safety, Josie begins to piece together the clues to the murder. Everyone around her seems to want to pitch in, from Maudie's family, to the receptionist at the facility, to the young couple helping Josie with her renovations, but with the killer so close to home, Josie has to be on her guard.
*****
Here's the virtual event for the release of Jane K. Cleland's Hidden Treasure.