Let's talk about mysteries for children. Why not? It's the time of year to buy presents, and, if you're a mystery reader yourself, you might have a young person in your life you can hook on the genre. It was a gift of a bag of books from an aunt that introduced me to the world of Gothic romances years ago, Phyllis A. Whitney, Victoria Holt, Mary Stewart.
Marthe Jocelyn, author of Aggie Morton, Mystery Queen, recently optioned for the screen, has a fascinating article about mysteries for children, and why you should introduce them to mysteries. The article is called, "6 Reasons to Hook Your Kid on Mysteries". It's available at CrimeReads, https://crimereads.com/6-reasons-to-hook-your-kid-on-mysteries/. Once you've read the article, you just might want to check the Web Store for some of those titles. https://store.poisonedpen.com/
Don't forget to look for Jocelyn's Aggie Morton, Mystery Queen: The Body Under the Piano.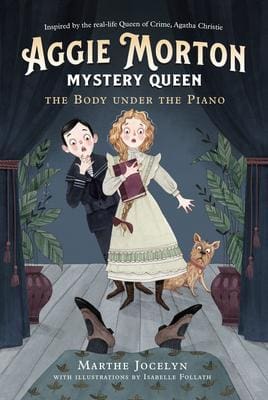 A smart and charming middle-grade mystery series starring young detective Aggie Morton and her friend Hector, inspired by the imagined life of Agatha Christie as a child and her most popular creation, Hercule Poirot. For fans of Lemony Snicket and Enola Holmes.
Aggie Morton lives in a small town on the coast of England in 1902. Adventurous and imaginative but deeply shy, Aggie hasn't got much to do since the death of her beloved father . . . until the fateful day when she crosses paths with twelve-year-old Belgian immigrant Hector Perot and discovers a dead body on the floor of the Mermaid Dance Room! As the number of suspects grows and the murder threatens to tear the town apart, Aggie and her new friend will need every tool at their disposal — including their insatiable curiosity, deductive skills and not a little help from their friends — to solve the case before Aggie's beloved dance instructor is charged with a crime Aggie is sure she didn't commit.
Filled with mystery, adventure, an unforgettable heroine and several helpings of tea and sweets, The Body Under the Piano is the clever debut of a new series for middle-grade readers and Christie and Poirot fans everywhere, from a Governor General's Award–nominated author of historical fiction for children.