In a recent virtual event, Barbara Peters, owner of The Poisoned Pen, introduced Boyd Morrison who worked with Clive Cussler on Oregon Files books. Marauder is the second in a series of adventures the two wrote together. Morrison then discussed books and background with Don Bentley, author of the forthcoming book, The Outside Man, a Matt Drake Thriller. You can order a signed copy of Morrison's Marauder, and pre-order The Outside Man through the Web Store. https://store.poisonedpen.com/
Here are short bios of Clive Cussler and Boyd Morrison.
Clive Cussler was the author of more than seventy books in five bestselling series, including Dirk Pitt, NUMA Files, Oregon Files, Isaac Bell, and Sam and Remi Fargo. His life nearly parallels that of his hero Dirk Pitt. Whether searching for lost aircraft or leading expeditions to find famous shipwrecks, he and his NUMA crew of volunteers discovered and surveyed more than seventy-five lost ships of historic significance, including the long-lost Confederate submarine Hunley, which was raised in 2000 with much publicity. Like Pitt, Cussler collected classic automobiles. His collection features more than one hundred examples of custom coachwork. Cussler and his wife made their home in Arizona.
Boyd Morrison is the coauthor with Cussler of the Oregon Files novels Piranha, The Emperor's Revenge, Typhoon Fury, and Shadow Tyrants, and the author of six other books. He is also an actor and engineer, with a doctorate in engineering from Virginia Tech, who has worked on NASA's space station project at Johnson Space Center and developed several patents at Thomson/RCA. In 2003, he fulfilled a lifelong dream by becoming a Jeopardy! Champion. He lives in Seattle.
Here's the summary of Marauder.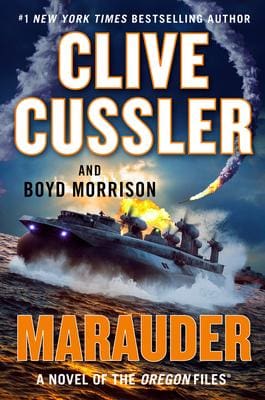 It is up to Juan Cabrillo and the crew of his ship, the Oregon, to stop a terrorist plot to release a deadly chemical weapon across the globe in the explosive new novel in Clive Cussler's #1 New York Times bestselling series.
While interrupting an attack on a Kuwaiti oil tanker, Juan Cabrillo and his team discover something even more dangerous: a ruthless billionaire's dying wish has allowed a paralyzing chemical to end up in the hands of a terrorist group. When an Oregon crew member falls victim to the poison, Juan Cabrillo will stop at nothing to find an antidote before it is too late. He and his team must connect an ancient mystery with a cunning modern enemy in order to save millions of innocent lives, including their own.
*****
You might enjoy the conversation in the virtual event.